Stock market : oil prices at their highest since 2008, commodities soar

With an increasingly unstable context in the face of the war in Ukraine, energy and metals are undergoing an acceleration due to massive supply, while gasoline is at a 14-year high.
Thanks to a buoyant U.S. job market, the dollar strengthened and pushed up commodity prices. Indeed, the U.S. unemployment rate fell to a two-year low of 3.8 percent, while job growth surged in February: a positive for an economy facing tightening Federal Reserve monetary policy and geopolitical tensions.
The euro fell below $1.10 for the first time in nearly two years, accompanied by a drop in European equities as a whole : the STOXX 600 index slid 3.56% and increases last week's losses to 7%, a drop that has not occurred since the financial consequences of Covid-19 in March 2020. Nonetheless, the major U.S. stock indexes fell less as Europe's dependence on Russian energy and its proximity to Ukraine hit the continent harder than other parts of the globe.
"Given all the uncertainty surrounding the Ukraine situation, the higher inflation environment and the resulting slowdown in global growth, we think you could see a more accommodative Fed than what is currently priced into the financial markets," said Jeff Schulze, investment strategist at ClearBridge Investments.
Commodity markets headed for their biggest weekly gains in years as the closure of Ukrainian ports and sanctions against Russia sent buyers of energy, crops and metals scrambling for alternative supplies.
Also, Asian stock markets are all down across the board, with Japan losing 2.2%, South Korea losing 1.1%, China down 0.9% and Hong Kong down 2.5%. The MSCI Asia Pacific ex-Japan Equity Index falls 1.5% to 585.6, the lowest level since November 2020.
Oil prices at their highest since 2008
U.S. gasoline prices at the pump jumped 11 percent to their highest level since July 2008 as global sanctions cripple Russia's ability to export crude oil. Indeed, average U.S. gasoline prices had reached $4.009 per gallon by Sunday, up from $3.604 a week ago, and $2.760 a year ago.
Gasoline price provider GasBuddy said the increase was the second-largest on record, following a 49-cent-per-gallon jump during the week of Sept. 3, 2005, after Hurricane Katrina hit.
"Rising oil prices continue to play a leading role in driving up prices," the AAA auto club said in a statement, noting that "prices at the pump will likely continue to rise as crude prices continue to rise."
U.S. crude futures climbed more than 12% to $130.50 a barrel Sunday night as the U.S. and its European allies consider a ban on Russian oil imports.
Read also > L.CATTERTON PLANS FUTURE IPO
Featured photo : © Getty Images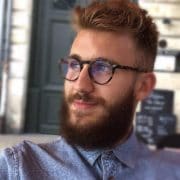 Anthony Conan
[FR] Diplômé journaliste plurimédias en 2019, Anthony Conan a multiplié les expériences, notamment en tant qu'assistant éditorial à TF1 ou journaliste radio à RCF Bordeaux. Il se spécialise dans le montage vidéo en plus de la rédaction, et développe un intérêt particulier pour l'économie.************** [EN] Graduated as a multimedia journalist in 2019, Anthony Conan has multiplied his experiences, notably as an editorial assistant at TF1 and as a radio journalist at RCF Bordeaux. He specializes in video editing in addition to writing, and has developed a particular interest in economics.