Hermès and Richemont join the Euro STOXX 50

The two luxury companies Hermès and Richemont were included in the Euro STOXX 50 stock index on Wednesday, joining their luxury colleagues such as LVMH or L'Oréal.
As a reminder, the Euro STOXX 50 is the main stock market index of the euro zone, belonging to the Deutsch Börse group. As its name indicates, it covers 50 financial stocks for 8 European countries, including France and Germany, whose brands dominate, but also Finland, Belgium, the Netherlands, Spain, Ireland and Italy. It represents the equivalent of the CAC 40 in France.
Some luxury brands are already included in the Euro STOXX 50 : LVMH, L'Oréal, Daimler AG and Essilor. Hermès and Richemont are joining this very closed group, eclipsing Universal Music Group and Vodafone in the process.
What are the consequences for Hermès and Richemont ?
This entry could generate new demand for the shares of these two luxury groups. It will also increase the visibility of the French luxury company among investors. The strong recovery of the sector, which has been able to cope with the Covid-19 pandemic and has seen strong demand for many brands, has benefited Hermès and Richemont.
Indeed, both companies are concluding a prolific year 2021. Hermès shares reported stronger-than-expected third-quarter sales in October, up 31%. For all of 2021, sales were up nearly 90%, reaching record levels. "Hermès represents quality," says Cedric Ozazman, chief investment officer at Reyl & Cie, a Swiss banking group. "It has one of the highest Ebit margins in the discretionary universe and is able to withstand recessions… while generating strong and recurring revenue growth in boom times," he adds.
As for Richemont, sales reached 8.91 billion euros in the third quarter, representing organic growth of 65%. This had considerably boosted the CAC 40, which had approached 7,100 points for the first time on the morning of the announcement of the results.
The official entry of both groups in the Euro STOXX 50 is scheduled for December 20.
Read also > TESLA AND HERMÈS PERFORM BEYOND EXPECTATIONS AT Q3
Featured photo : © Getty Images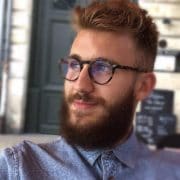 Anthony Conan
[FR] Diplômé journaliste plurimédias en 2019, Anthony Conan a multiplié les expériences, notamment en tant qu'assistant éditorial à TF1 ou journaliste radio à RCF Bordeaux. Il se spécialise dans le montage vidéo en plus de la rédaction, et développe un intérêt particulier pour l'économie.************** [EN] Graduated as a multimedia journalist in 2019, Anthony Conan has multiplied his experiences, notably as an editorial assistant at TF1 and as a radio journalist at RCF Bordeaux. He specializes in video editing in addition to writing, and has developed a particular interest in economics.