Take advantage of an exceptional offer on the Digital + Print subscription on the occasion of Geneva Watch Week 2023, and receive at home the new special watchmaking issue of Luxury Journals by Luxus+.

On the occasion of the Geneva Watch Week 2023, a key event in the watch industry, Luxus plus is offering a special offer until April 16 inclusive. By subscribing to the Digital + Print subscription, you can enjoy the new issue of Luxury Journals, dedicated to all the latest watch news, as well as to the basic trends that are shaping a sector in full swing.
The Geneva Watch Week special offer also gives you unlimited access to all Luxus Plus content, in print and digital format, on our websites luxus-plus.com and magazine.luxus-plus.com.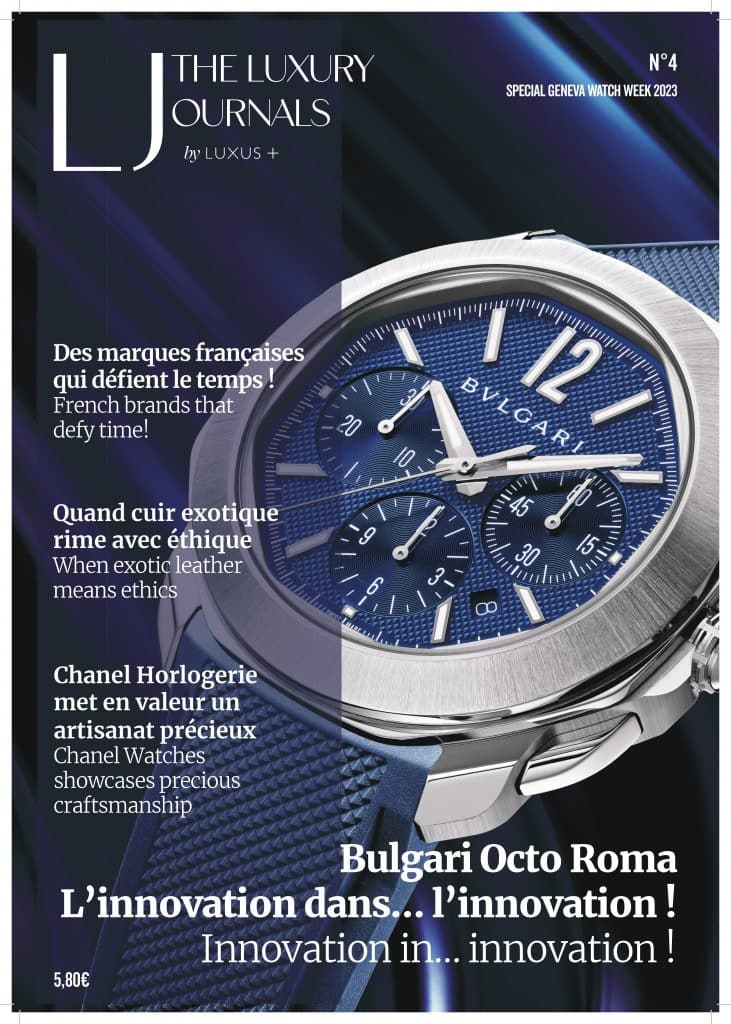 Stay up to date with the latest news on the world of luxury, fashion and lifestyle. Your subscription will also give you access to our weekly newsletter, directly in your mailbox.
This season, in the brand new issue of Luxury Journals, offered with your subscription, it is the House of Bvlgari that makes the headlines. The House has just unveiled its new Octo Roma models, a great classic of the brand. Discover without further delay the challenges taken up by the Bvlgari team by subscribing to the offer of the moment.
For even more news and watchmaking developments, don't miss our special report on exotic leather, which rhymes with ethics, produced with experts who decipher this new emerging phenomenon for you. Because leather is still very popular with watchmakers, discover interviews with associations and companies that work for responsible and sustainable commitments, such as the Parisian luxury leather goods brand, Camille Fournet.
Enter also the magical world of Chanel Horlogerie, which, in the tradition of the Métiers d'Art fashion shows, designs and brings new life to the Mademoiselle Privée watch collection with a rare know-how of its own.
In addition to the topics announced on the cover of the special issue, don't miss the latest news from the watchmaking world! Discover the biometric passport as a way to fight against counterfeiting, the Rouvenat alarm clock or the latest innovative timepieces such as the Speedmaster from Omega.
Finally, take advantage of our shopping pages with our favorite selections.
And because good news never comes alone: in addition to the watchmaking special, your subscription also gives you access to numerous events such as partner trade shows.
So if you are not yet a subscriber, click here !
Read also >[Special Geneva Watch Week 2023] Watchmaking: Biver, the new watch brand that everyone will be talking about
Featured photo : © Luxus Plus