Yves Saint Laurent Beauty announced today, Wednesday June 15, its foray into the digital world, including an entry into web3 and the launch of NFTs.
To achieve this project, YSL Beauty called upon Arianee, the first Web3 solutions platform for brands, to build its own web3 space. On this interface, as of today, Vivatech visitors, a trade show dedicated to technological innovations starting today, as well as subscribers to the Instagram and Twitter accounts @YSLBeauty will be able to collect their first NFT named "YSL Beauty Golden Blocks" . These golden blocks will allow their owner to access exclusive experiences like future NFT drops or whitelisting.
In addition, YSL Beauty also intends to create an interface to interact with new entrants in the web3 or regulars of cryptocurrencies. The latter will be able to retrieve NFTs within the YSL Beauty Wallet application, which was designed by Arianee.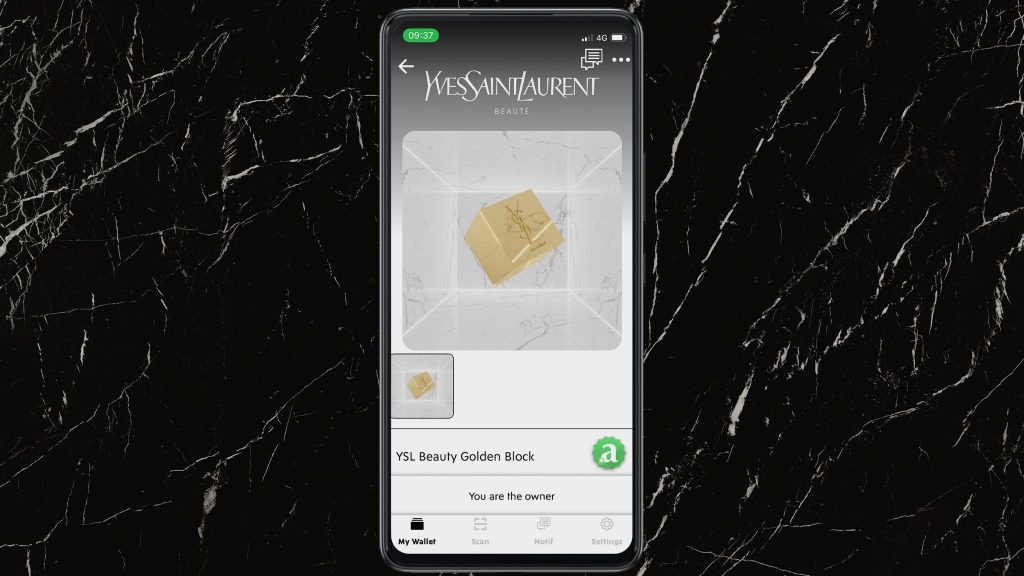 "For us, web3 holds the promise of augmented experiences, where artistic reinvention and emotions meet in a new way. On this path to the unknown, we believe it is possible to play with the codes of beauty, to push the limits of creativity and technology and to contribute to shaping a bolder present. On the edge of reality," said YSL Beauty CEO Stéphane Bézy.
Pierre-Nicolas Hurstel, CEO of Arianee, said: "We are delighted to enable YSL Beauty to enter Web3 with our end-to-end solution. Whether it's creating NFTs, distributing them to the brand's community or leveraging them with protected content, the brand is making full use of our platform."
Finally, on June 21, YSL Beauty will launch a partnership with the decentralized platform P00LS and two inspiring artists of the music scene: Agathe Mougin and Kittens. This project will allow the brand's community to discover a preview of the artists' projects and to collect their "social tokens"; all with the aim of fighting and preventing domestic violence.
Read also> NFT AND COPYRIGHTS : THE TRIBUNE OF A COLLECTIVE OF ARTISTS SHAKES THE ART MARKET
Featured photo : © YSL Beauty