The Luxury Collection Hotels & Resorts hotel group announced yesterday, Wednesday, June 22, the opening of Cosme, a luxury resort located on Paros, a beautiful island in the Cyclades, Greece.
The new address, which joins the portfolio of Marriott International, owner of The Luxury Collection Hotels & Resorts, is set in an wonderful setting. It is based in Naoussa, a charming town on the paradise island of Paros, with its white-painted backdrops, cobblestone pathways and stretches of crystal-clear beaches.
"We strongly believe in creating authentic and timeless experiences for our guests, encouraging deeper connections between them and the destination, embracing culture, rituals and traditions as well as evoking a sense of calm," said Kalia Konstantinidou, co-owner of Kanava Hotels and Resorts, the company that developed Cosme.
This unique address was designed to be one with its surroundings. The design of the property, created by the architecture and design studio ID Laboratorium, is inspired by the Mediterranean architectural style associated with the beauty of the Cyclades, especially its fishing villages. Details such as the half-moon shaped swimming pool and the winding paths within the property recall the landscape in which Cosme is located and create an intimate family village style atmosphere.
The resort features 40 intimate suites, each uniquely designed to be unique. Some of them also have private pools and views of the crystal-clear waters of the Aegean Sea. The hotel also has a main pool, a spa, a private beach club and a gym.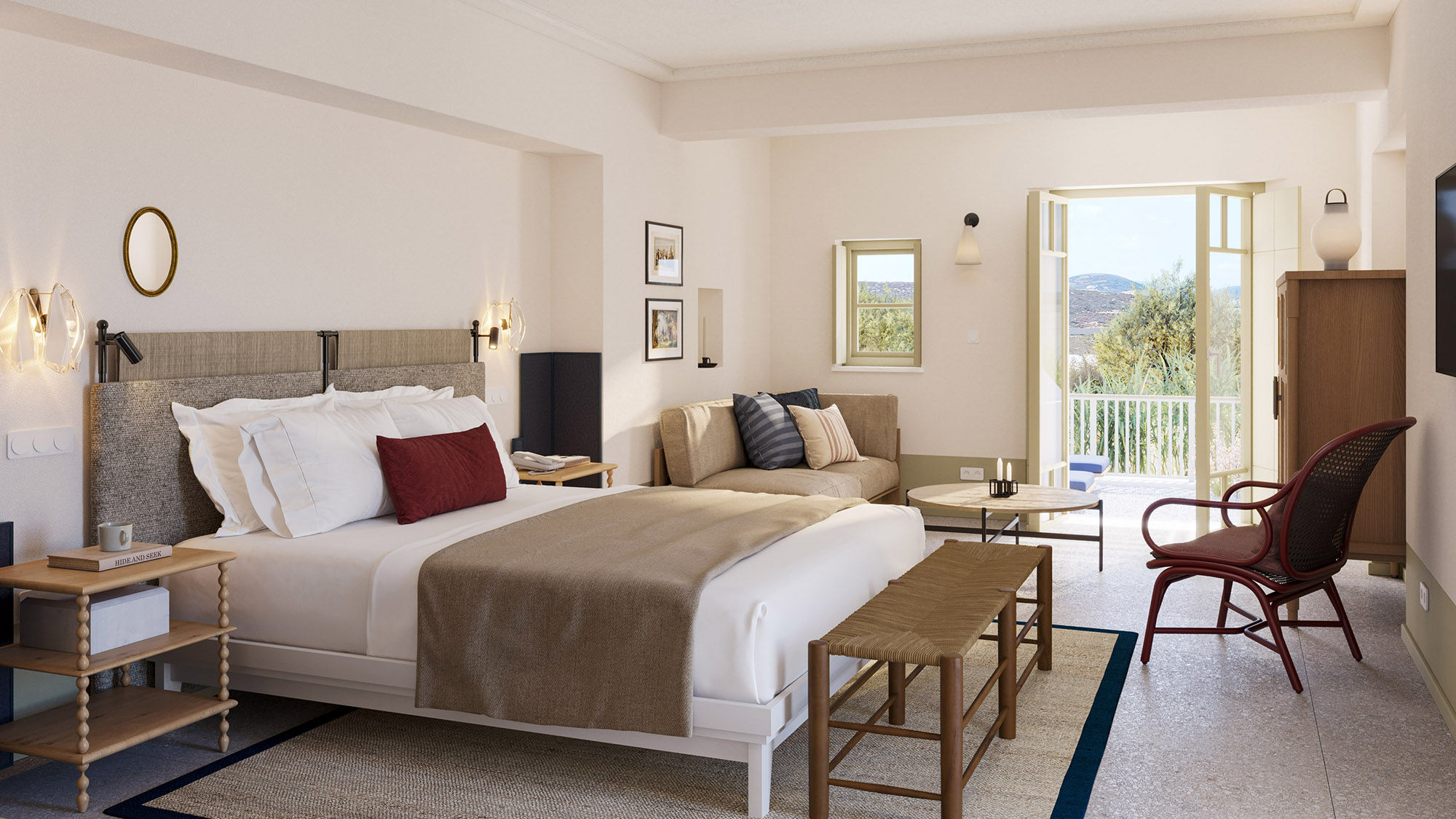 The hotel's kitchens prepare daily dishes that pay tribute to the rich Greek gastronomy. This culinary journey is offered by chef Yiannis Kioroglou, who is passionate about "Mediterranean-Greek" cuisine. Guests will also have the opportunity to learn how to cook traditional regional dishes in the hotel's aromatic garden with dedicated sessions each day.
"It's time to celebrate life and feel free. This is the concept behind the creation of Cosme. Our location, architecture, services and people open up possibilities, allowing guests to express their individuality and choose how they connect, imagine and enjoy themselves. Every aspect of the hotel is designed to give guests the freedom to make the experience their own," Kalia Konstantinidou then emphasizes
Reservations already open, count on about 900€ for a night in this idyllic hotel.
Read also > LUXURY HOTELS: THE EXPERIMENTAL GROUP ACQUIRES LE REGINA AND LE GARAGE IN BIARRITZ
Featured photo : © The Luxury Collection Hotels & Resort