Polestar projects sales propulsion by 2025

Premium automaker Polestar is aiming for 29,000 electric vehicle sales globally by 2022, as well as a tenfold increase in sales by 2025.
Polestar, an electric vehicle maker owned by China's Geely and the performance arm of Volvo Cars, expects sales to reach 29,000 next year, and explode by 2025, as the brand rolls out new vehicles starting with an SUV next year.
"We're not a virtual company waiting to build factories and sell cars; we're a real company already building and selling cars around the world," says Thomas Ingenlath, Polestar's CEO.
In this dynamic, the firm will launch the Polestar 3 SUV in 2022, which will be an important step for the company and its more regular presence in the automotive market casinos in österreich.
Indeed, Polestar is still very new as the brand was launched in 2017 with the Halo Polestar 1 hybrid performance car. The 100% electric Polestar 2 then followed, before then the future arrival of the version 3 of the car. The Polestar 4 SUV coupe is expected to follow in 2023 while the four-door Polestar 5 GT is already scheduled for 2024.
Polestar is planning updates for its vehicles, starting with a performance upgrade to the Polestar 2 with an increase in performance to 68 horsepower. The company also wants to add autonomous highway driving capability for the Polestar 3 around the middle of the decade.
The company expects 40 percent of sales to come from Europe and 30 percent each from North America and Asia. The goal remains $1.6 billion in sales this year, double that in 2022, and aim for $17 billion by 2025. With its strategy of launching a new car every year for the next three years, the brand expects to sell 290,000 units within four years.
Read also > KENNETH GREGOR, CHIEF FINANCIAL OFFICER OF ASTON MARTIN, STEPS DOWN
Featured photo : © Getty Images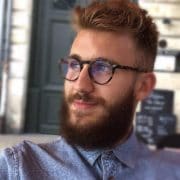 Anthony Conan
[FR] Diplômé journaliste plurimédias en 2019, Anthony Conan a multiplié les expériences, notamment en tant qu'assistant éditorial à TF1 ou journaliste radio à RCF Bordeaux. Il se spécialise dans le montage vidéo en plus de la rédaction, et développe un intérêt particulier pour l'économie.************** [EN] Graduated as a multimedia journalist in 2019, Anthony Conan has multiplied his experiences, notably as an editorial assistant at TF1 and as a radio journalist at RCF Bordeaux. He specializes in video editing in addition to writing, and has developed a particular interest in economics.