Interparfums : new record results in 2022

The multi-licensed perfume group has again made a splash in 2022. Driven by higher prices and a favorable euro/dollar exchange rate, sales jumped 26% to 706.6 million euros.

Philippe Benacin, the CEO of Interparfums, has much to celebrate. His group "had an exceptional year" in 2022, "well above our initial forecasts" and "despite recurring supply chain issues and very low finished goods inventory levels".
With a 26% increase in sales to 706.6 million euros, the group is finally well within the range of "around 705-710 million euros" expected in its last forecasts. Interparfums had raised its forecasts four times in recent months.
Three flagship brands
"Despite a tense geopolitical context, the perfumery market has maintained a strong growth momentum in almost all regions," said the CEO, pointing to "sales levels now between 150 and 200 million euros" for three brands in its portfolio. Sales of its first licence, Montblanc, jumped by 29% to 184 million euros, followed by Jimmy Choo (+39% to 181.6 million) and Coach (+33% to 153.8 million).
In addition to these well-established drivers, Interparfums can also count on promising relays. Its first line of Moncler perfumes, launched in mid-2021, has already generated 14 million euros in sales in 2022.
Philippe Benacin is also counting on the Lacoste licence, signed last December, to "provide a lot of visibility for its future growth", with an "original fashion sport positioning". Interparfums will develop the fragrances of the crocodile brand worldwide from 1 January 2024, for an unprecedented period of fifteen years.
Double digit growth everywhere
Geographically, all continents posted double-digit growth : +28% to €116.7 million in Western Europe, +26% to €98.6 million in Asia and +27% to €286.4 million in North America, "despite shipping difficulties in the first half of the year in the US". In France, Interparfums sales increased by 10% to 39.4 million euros.
Despite this remarkable 2022 fiscal year, Interparfums is keeping a cool head for 2023, with inflation still on the horizon. The group intends to face this challenge by increasing its sales prices as early as February and thanks to a still favorable dollar/euro exchange rate.
Read also > Interparfums raises its 2022 financial forecast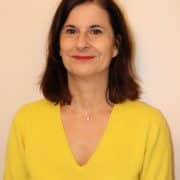 Sophie Michentef
Après plus 20 ans au Journal du Textile, dont elle a notamment assuré la rédaction en chef adjointe, diplômée d'un Master en marketing de luxe de l'ISML, Sophie Bouhier de l'Ecluse est une spécialiste de la filière mode, textile et luxe.