Western stock markets recover as restrictions are lifted in China

The lifting of many of the restrictions put in place in response to the resurgence of Covid-19 in China has given a boost to the stock markets.
Western stock markets are gradually coming out of the gloom, following the gradual end of restrictions in China, particularly in Beijing and Shanghai. However, investors' attention will soon be focused on the European Central Bank meeting on Thursday and the publication of a U.S. price index on Friday.
European stock markets ended higher yesterday, following the Asian markets, "boosted by the easing of restrictions" anti-Covid in China, "which for more than two months had been an obstacle to the mood of the markets," says Michael Hewson, analyst at CMC Markets. This Tuesday morning, the Asian markets did not move much: the Chinese stock exchanges opened slightly lower and the Tokyo stock exchange was progressing moderately, facing a new fall of the yen.
On Monday, Paris rose 0.98%, Frankfurt 1.34%, Milan 1.65% and London gained 1% after the Queen of England's Golden Jubilee celebrations.
In New York, the Dow Jones gained 0.05%, the technology-heavy Nasdaq index gained 0.40%, and the broader S&P 500 index gained 0.31%. "The enthusiasm to buy has calmed down" over the session, commented analysts at Briefing.com, cutting Wall Street in its momentum.
Two important meetings
But this lull may be short-lived because the real focus of the markets is expected later this week: Thursday and Friday with "a key meeting of the European Central Bank and a key indicator measuring inflation in the United States", the consumer price index (CPI), says Neil Wilson, analyst at Markets.com.
Since March, the U.S. central bank has been gradually raising policy rates in an effort to slow demand from consumers and businesses, thereby helping to curb soaring prices. On Friday, strong U.S. labor market data dashed hopes that the Fed would pause its rate hikes.
For its part, the European Central Bank (ECB) preferred not to rush to tighten monetary conditions in the Eurozone, despite facing a boom in inflation that reached 8.1% year-on-year in May.
At its next meeting on Thursday, the ECB is expected to decide to stop its net debt purchases, which have so far supported markets with abundant liquidity.
"The biggest challenge for the ECB this week will be to try to justify why it waits until July to act, given the urgency of the situation", in a context of a sharp rise in prices aggravated by the war in Ukraine, believes Michael Hewson.
Read also > IN CHINA, THE GOVERNMENT IS GRADUALLY LIFTING RESTRICTIONS ON COVID-19
Featured photo : © Depositphotos/ huangcarlos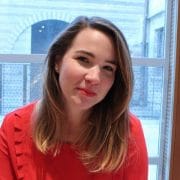 Hélène Cougot
Passionnée depuis son plus jeune âge par l'art et la mode, Hélène s'oriente vers une école de stylisme, l'Atelier Chardon-Savard à Paris, avec une option Communication. Afin d'ajouter des cordes à son arc, elle décide de compléter sa formation par un MBA en Management du Luxe et Marketing Expérientiel à l'Institut Supérieur de Gestion à Paris dont elle sort diplômée en 2020. Elle a notamment écrit des articles lifestyle et beauté pour le magazine Do it in Paris et se spécialise en rédaction d'articles concernant le luxe, l'art et la mode au sein du magazine Luxus Plus.********** [EN] Passionate about art and fashion from a young age, Hélène went to a fashion design school, Atelier Chardon-Savard in Paris, with a Communication option. In order to add more strings to her bow, she decided to complete her education with an MBA in Luxury Management and Experiential Marketing at the Institut Supérieur de Gestion in Paris from which she graduated in 2020. She has written lifestyle and beauty articles for Do it in Paris magazine and specializes in writing articles about luxury, art and fashion for Luxus Plus magazine.