Louis Vuitton paid tribute to its artistic director who died last Sunday during a "Virgil was here" fashion show in Miami.
Following the tragic announcement of the death of designer Virgil Abloh last Sunday, Louis Vuitton, where he worked as artistic director for men, decided to pay tribute to him through a fashion show. It is the collection Louis Vuitton Homme spring-summer 2022 imagined last June by the artist who has paraded once again in Miami.
In the front row of the show among the many guests, collaborators and relatives of the designer, we found Pharrell Williams, Kanye West and Kim Kardashian, present to pay tribute to the man and the designer.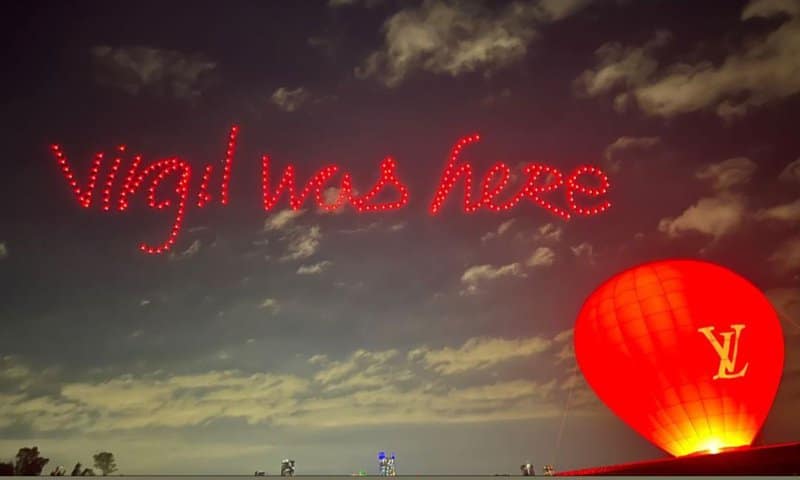 On the catwalk among the models, Kid Cudi, offers a catwalk revival strong of meaning and for good reason, the rapper had also walked in the first Louis Vuitton fashion show by Virgil Abloh in 2018. At the end of the fashion show, we witness a ballet of lighted drones and a fireworks display bursting in the starry sky of Miami, this fashion show venue was one of the last wishes of the late designer.
Virgil Abloh was a beloved creator and designer, changing the image of fashion to make it more inclusive and optimistic. His engaging and generationally minded fashion shook up the industry for a hopeful future.
"It is with deep sadness that I learned of Virgil Abloh's passing. Virgil was not only a friend, a great collaborator, a creative genius, a visionary and a disruptor, but also one of the best cultural communicators of our time. He paved the way for future generations. As a dedicated supporter of his community through his charities and passions, he was an eternal optimist who believed that anything is possible. In that same spirit, we at Louis Vuitton will proudly continue to celebrate his legacy with a final show in Miami, as per his wishes. I am honored to have called him my friend. My deepest thoughts are with his wife, children, parents, family and the entire community that was touched by his greatness," said Michael Burke, President and CEO of Louis Vuitton.
Read also > LOUIS VUITTON TO PAY TRIBUTE TO VIRGIL ABLOH THIS TUESDAY
Featured photo : © Getty Images