The Watches & Wonders exhibition runs until April 2nd in Geneva. Luxus+, partner of the event, is dedicating a special series to the event… Reports, encounters, favorites, practical information and gift ideas are to be discovered now !
The House of Jacob & Co is pushing back the boundaries once again with the latest addition to its Billionaire collection, presented at Geneva Watch Week. Adorned with an exceptional number of yellow diamonds, worked to a high level of complexity, the Timeless Treasure is offered at a price worthy of its uniqueness: 20 million dollars…
The highlight of Geneva Watch Week? Smartphones went wild on Monday to capture the image of the Billionnaire Timeless Treasure, presented at the Hôtel des Bergues in Geneva. This jewel watch presents a level of sophistication that has probably never been reached in the history of Haute Horlogerie-Joaillerie. It is even a work of art, as the jeweller Jacob & Co, who created this extraordinary creation, has described it. No one is thinking of contradicting them…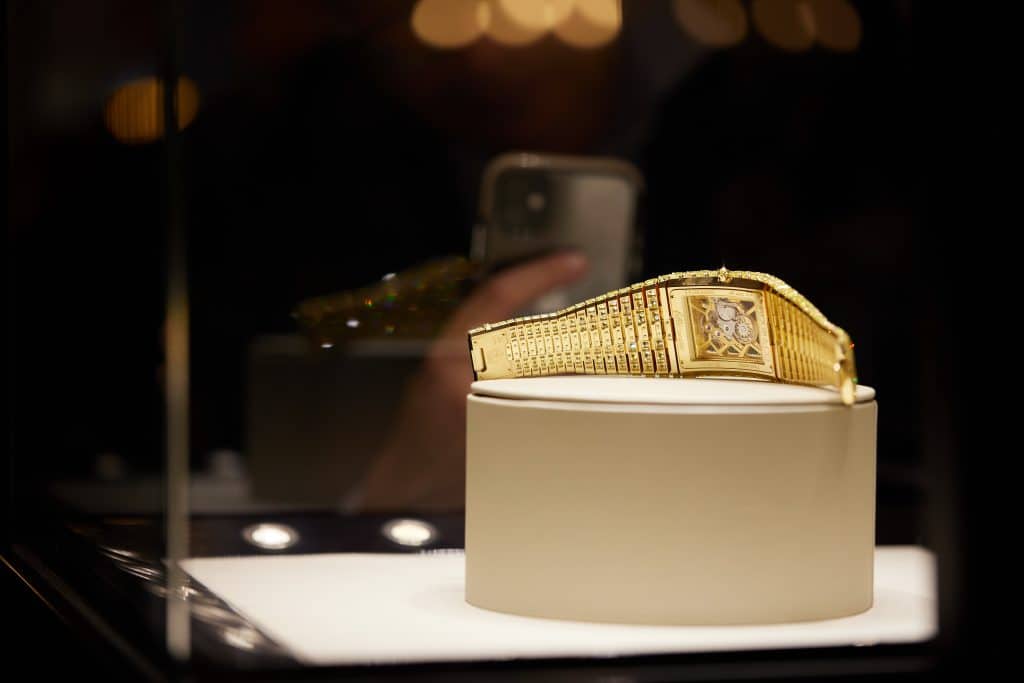 This timepiece indeed presents an impressive profile: to adorn it, it required 880 carats of rough yellow diamonds (some of which individually reach up to 2.50 carats!), which ended up with 216.89 carats, i.e. 425 Fancy Yellow and Fancy Intense Yellow stones, after thousands of hours of extremely demanding Asscher cutting. 76 green tsavorites, cut in emerald-cut and kite-cut, highlight the dial and the JCAM39 calibre. While baguettes of 57 yellow diamonds adorn its skeleton tourbillon. Knowing that, in the opinion of many, this level of complexity in the cutting of the stones had probably never been reached before in a watch creation…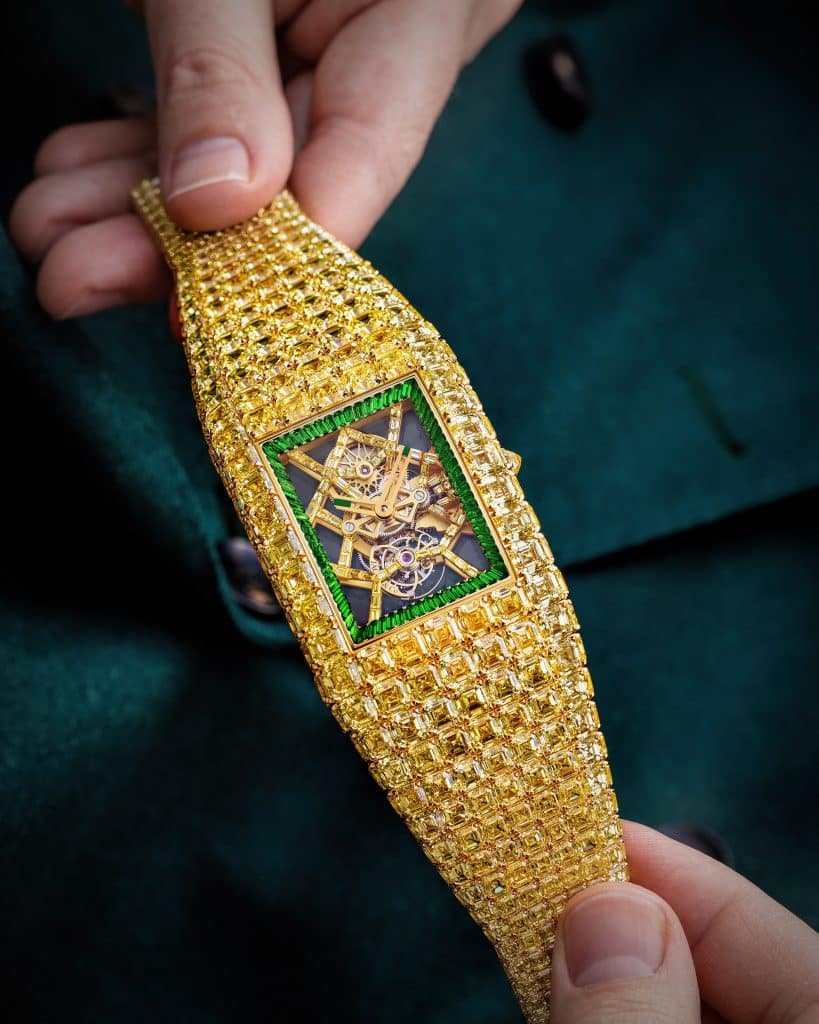 It is understandable then that the whole thing is offered for 20 million dollars, which makes it one of the most expensive watches in the world!
Treasure hunt
This incredible timepiece is the result of a treasure hunt, an adventure in search of the impossible that took years of patience.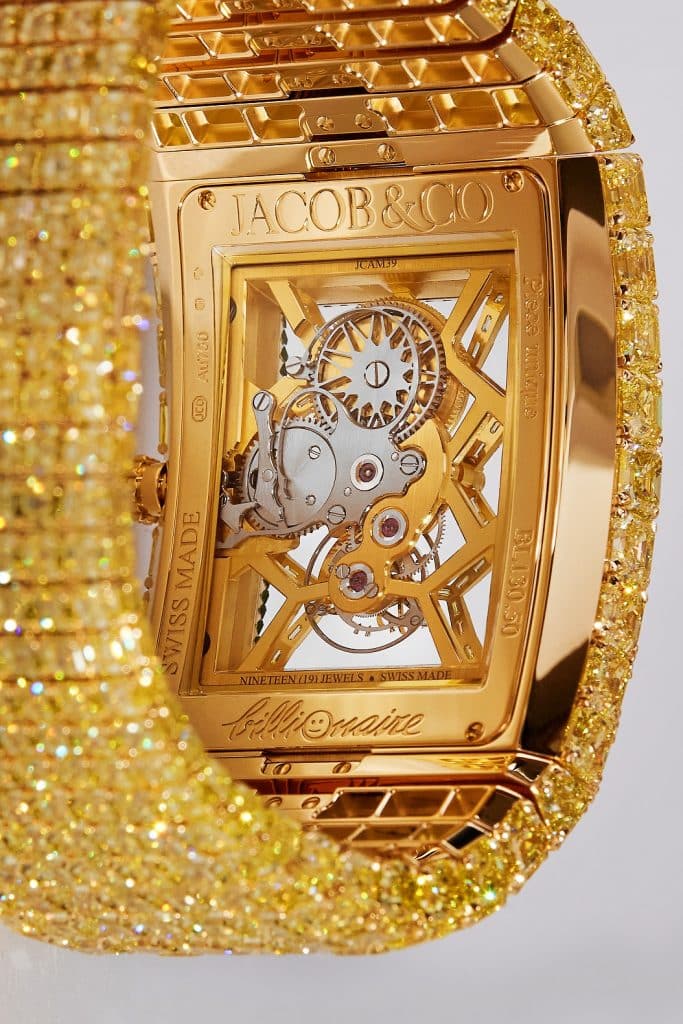 "We have travelled the world for three and a half years in search of an unprecedented number of perfect gemstones, gathered them here in our Geneva headquarters, where each one has been examined in its raw state, during cutting, before and after setting," explained Benjamin Arabov, Jacob & Co's CEO. We combined our expertise in fine jewellery with our skills in fine watchmaking and used our drive to achieve what has never been done before. "
Occurring in nature at a ratio of only 1 in 10,000 white diamonds, yellow diamonds are much rarer and more expensive than the former. "We receive lots of white diamonds containing dozens or hundreds of gems. For this watch, we received the stones one by one, two by two, three at the most," explained Seraina Wicht, Jacob & Co's gemmology manager.
"Everything seemed impossible," she added. Firstly, to get hold of so many stones of such a rare colour and size. Secondly, to ensure that all the stones met our requirements in the rough, before cutting. Thirdly, to maintain colour consistency after cutting. And fourthly, to cut each stone so that it fits perfectly in its own little bed of yellow gold. Never before has Jacob & Co taken on such a challenge."
Billionaire Collection
A dozen experts searched, sorted and cut the yellow diamonds. Some fifteen craftsmen made and set the yellow gold lattice structure, then the skeleton tourbillon movement.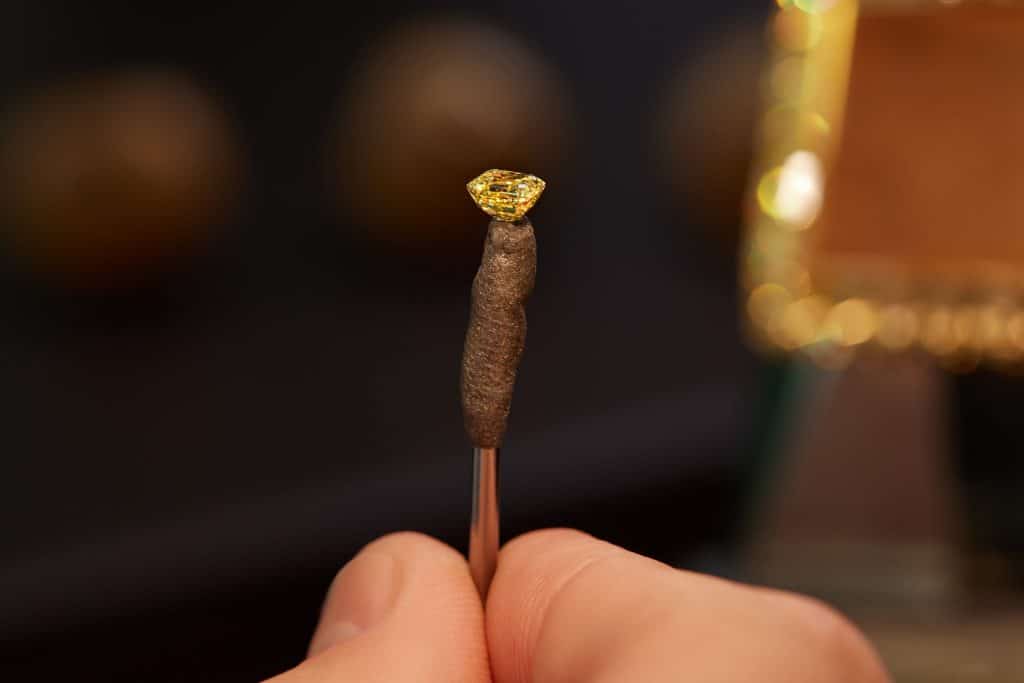 The Timeless Treasure is a continuation of the Billionaire collection launched in 2015. Its success has been equal to its exceptional character: to create extraordinary jewellery watches with an exceptional number of diamonds of equally remarkable quality.
By constantly pushing its limits and flirting with jewellery, the watchmaker, founded in 1986 in New York by the Swiss Jacob Arabo, never ceases to shine in the firmament. Let's bet that with its glamorous aura, it will continue to seduce stars like Rihanna, who wore its "Northern Lights" model during the last Super Bowl…
Read also > Jacob & Co doubles its sales in two years
Featured photo : © Jacob & Co