The Bvlgari store in Shanghai is getting a facelift with a façade made of recycled materials, in partnership with the MVRDV architectural firm.
The Bvlgari Shanghai Plaza 66 store begins a sustainable transformation with its new facade made of recycled champagne bottles. Taking inspiration from art deco and exploiting the interplay between innovation and tradition, the radiant facade is composed of 100% recycled materials and combines green, white and transparent glass bottles.
Using recycled champagne bottles, Dutch company MVRDV was able to produce a dazzling new jade-like façade. MVRDV produces designs and studies in the fields of architecture, urban planning, and landscaping and is now on its 3rd project with the luxury brand.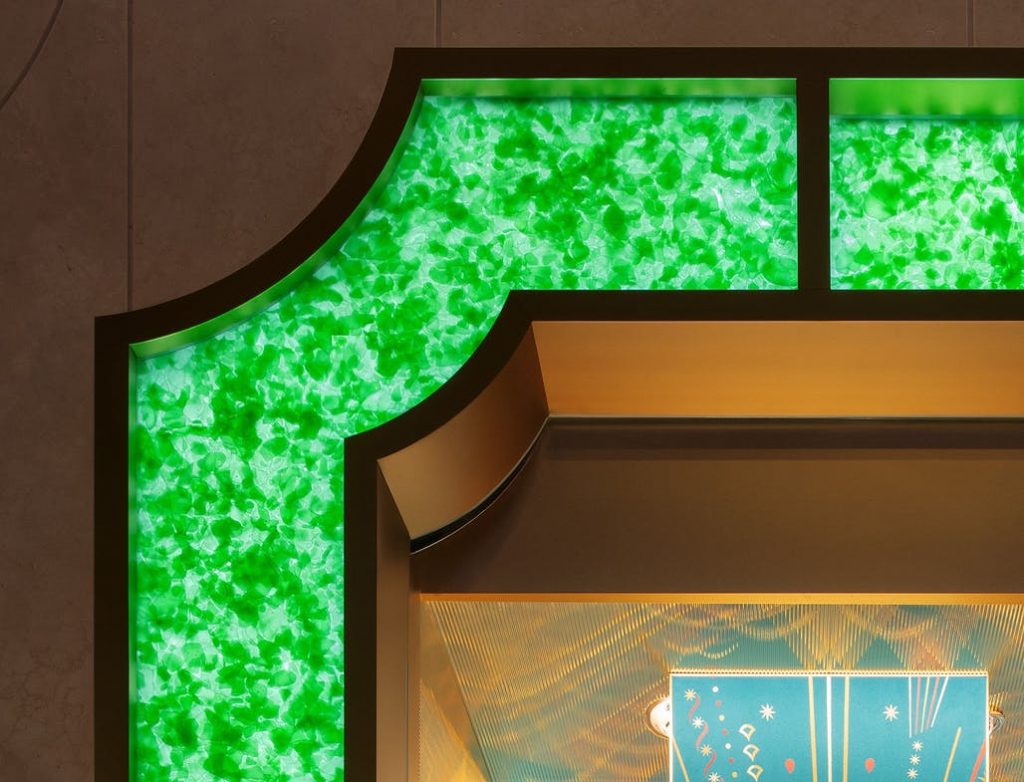 MVRDV's installation features the cornice motif used for Bvlgari, formed by overlapping panels of brass and recycled bottles. According to the architects, "The glass is entirely recycled, produced at the Magna factory in Teutschenthal, Germany, which specializes in glass processing. The project demonstrates the potential of sustainable recycled materials, even in luxury contexts, and takes a step toward MVRDV and Bulgari's goal of designing stores built with materials that are 100% circular economy."
Sustainability is a central element of the luxury house's business model, which has thus been made possible in two previous collaborations between the brand and the studio.  "Our collaboration with Bulgari has led to some fascinating experiments with materials," said Jacob van Rijs, partner and founding member of MVRDV. "It's a passion we share with them, albeit in different design disciplines. The Shanghai store encapsulates the value of these experiments: with the right treatment and details, abandoned champagne and beer bottles that would otherwise be thrown away become a jewel for the city."
Read also > BVLGARI UNVEILS AN EXCLUSIVE FRAGRANCE AT LA SAMARITAINE
Featured photo : © Bvlgari / Xia Zhi