Luxury goods are flying high in the Best Global Brands 2022 ranking, with Tesla, Hermès and Gucci in the top 30. Even though technology continues to lead the way, with Apple, Microsoft and Amazon in the top three.

The 2022 edition of Best Global Brands by Interbrand, the annual ranking of the most powerful international brands for the current year, has just been released. The list is based on financial performance, the role of brands in purchasing decisions and their competitive strength.
And 2022 is clearly a vintage year. After an already record-breaking year in 2021 with 15% growth, 2022 marks a new milestone with a 16% increase in the overall value of the top 100 to $3,088 billion (from $2,667 billion in 2021).
The top 10 is largely dominated by the big tech companies, with Apple, Microsoft and Amazon in the top three.
Mercedes-Benz, ranked 8th in this year's rankings, has made good progress with an estimated value of $56 billion (+10% compared to 2021). Tesla has moved up two places to 12th place with $48 billion (+32%), just ahead of BMW, in 13th place, which has $46 billion (+11%).
Among the French luxury companies, Louis Vuitton climbed to 14th place with an estimated value of 44 billion dollars (+21%), Chanel is 22nd with 29 billion (+32%), followed by Hermès, 23rd with 27 billion (+27%). L'Oréal, 58th with 12.9 billion (+3%), Cartier, 74th with 9 billion (+17%), Dior, 77th with 8.9 billion (+27%). Italian luxury goods join the ranking with Gucci, 30th with 20 billion (+23%), and Prada, 89th with 6.5 billion (+21%).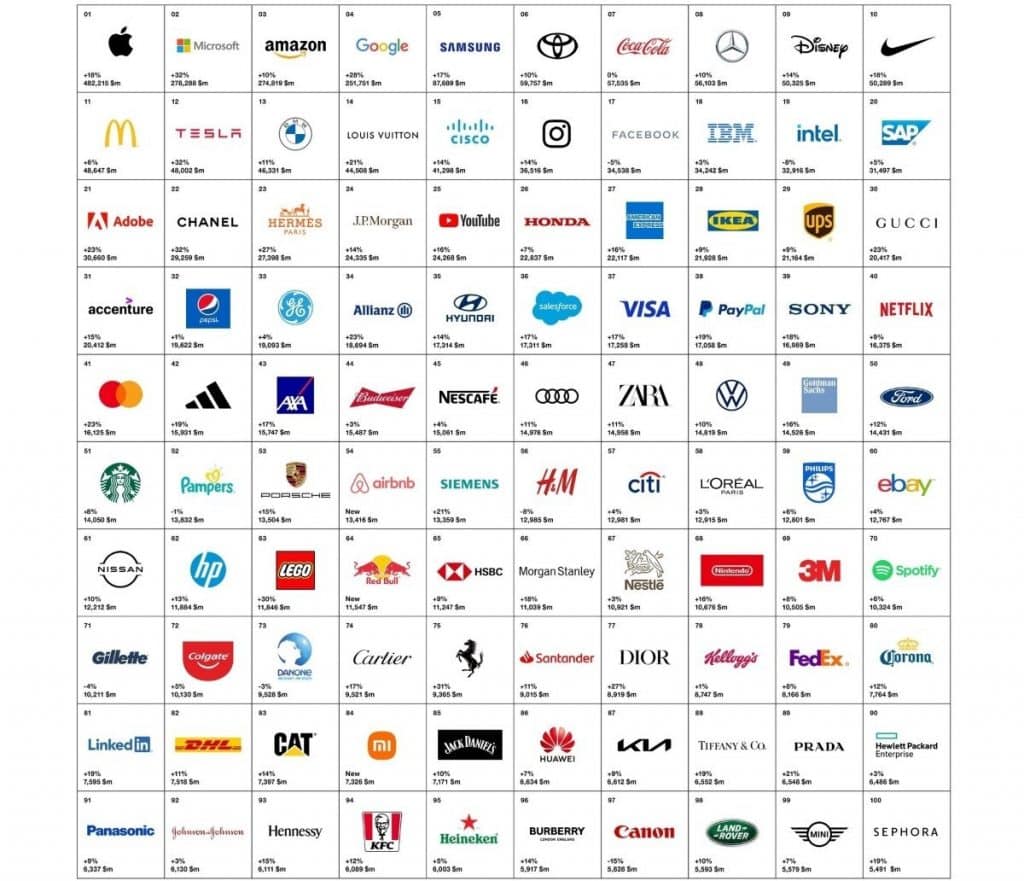 "What this year's BGB demonstrates is that true brand leadership – and with it true brand value – is forged by their unwavering commitment to understanding their customers and integrating with their lives, wants and needs," explains Emma Ellis, managing director of Interbrand London, before adding, "What customers need more than ever is to be able to trust the actions of the brands they engage with, both in terms of words and actions."
Read also> Best Global Brands 2021: Mercedes-Benz reinforces its position as the number one automotive brand
Featured photo : © Getty images