After many years of friendship between the watch brand Richard Mille and the tennis player Rafael Nadal, their new collaboration is a natural fit: a sports watch combining technology and performance.
After the various collaborations between Richard Mille and Rafael Nadal since 2008, including the "RM27" series, the new RM 35-03 Automatique Rafael Nadal, the fourth part of this collection, continues this line by introducing a patented innovation, the butterfly rotor.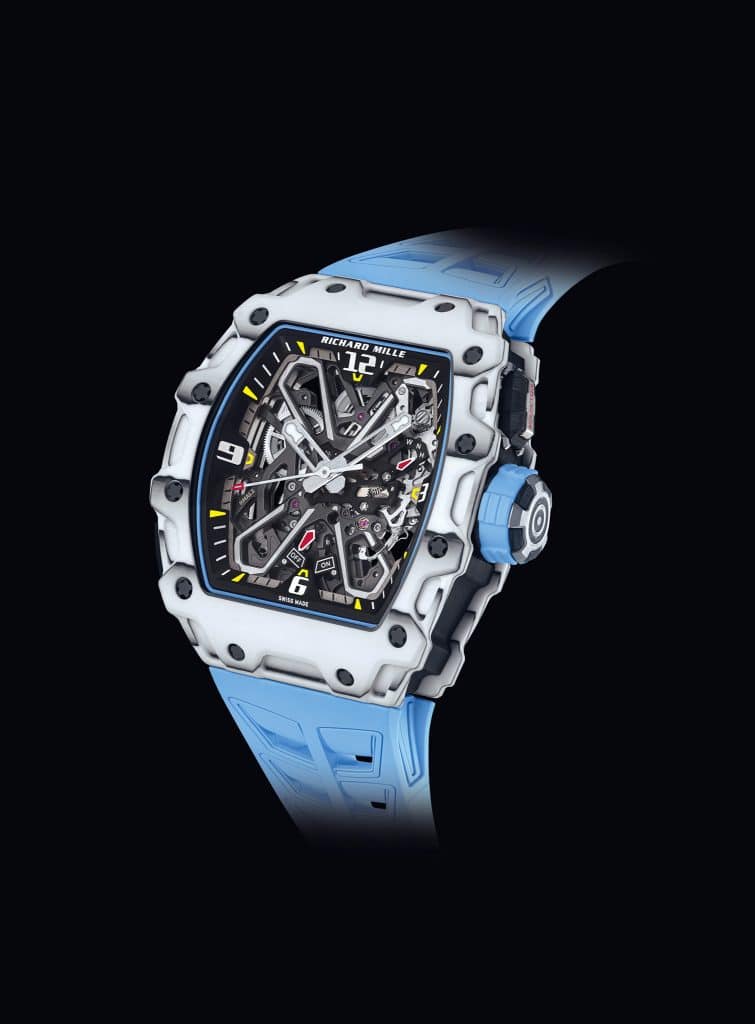 "We both strive for excellence in our respective fields. We speak the same language with Richard. I think it's important to keep the passion for what we do every day alive. Even if I don't wear the RM 035 collection in competition, it's always a pleasure to feel the confidence that he and his team have in me by allowing me to contribute to this unique adventure," explains the tennis player with 21 Grand Slam titles.
Three years of research
After three years of development, the new butterfly rotor of the RM 35-03 allows its owner to intervene directly on the geometry of the rotor by controlling the winding of the movement according to his lifestyle and activities. It is composed of two grade 5 titanium arms topped by heavy metal mass segments, activated by an independent gear train controlled by a push button.
In their initial position, these masses generate a radial displacement of the center of gravity in the periphery, generating the torque necessary to wind the barrel with each movement of the wrist. A simple pressure on the pusher at 7 o'clock allows the rotor gear train to move the two weights through 180°. The center of gravity is then brought back to the center: the rotor balances, which suspends the winding process and thus avoids excessive winding of the movement.
"Until now, all modifications of the rotor geometry had to be done by one of our authorized watchmakers. We wanted to optimize this system by giving the wearer the opportunity to intervene directly on the winding of his watch […] Like a driver who adapts the behavior of his car to urban use or on the track with the activation of the sport mode," says Salvador Arbona, technical director of movement at Richard Mille.
The RM 35-03 Automatic Rafael Nadal is offered in two versions: Blue Quartz TPT with white Quartz TPT case and White Quartz TPT and Carbon TPT with Carbon TPT case. The movement, which has a power reserve of approximately 55 hours, can be admired from both sides of the case through sapphire glasses. The plate and bridges, made of grade 5 titanium and treated with grey electro-plasma and PVD, accentuate the graphic character of the piece.
To learn more about this piece of excellence, click here.
Read also> RAFAEL NADAL'S LUXURY WATCH MADE BY RICHARD MILLE
Featured photo : © Richard Mille