A look back at the highlights of London Fashion Week, which runs until Tuesday, February 19, 2019.
By Hélène
Burberry far from soothing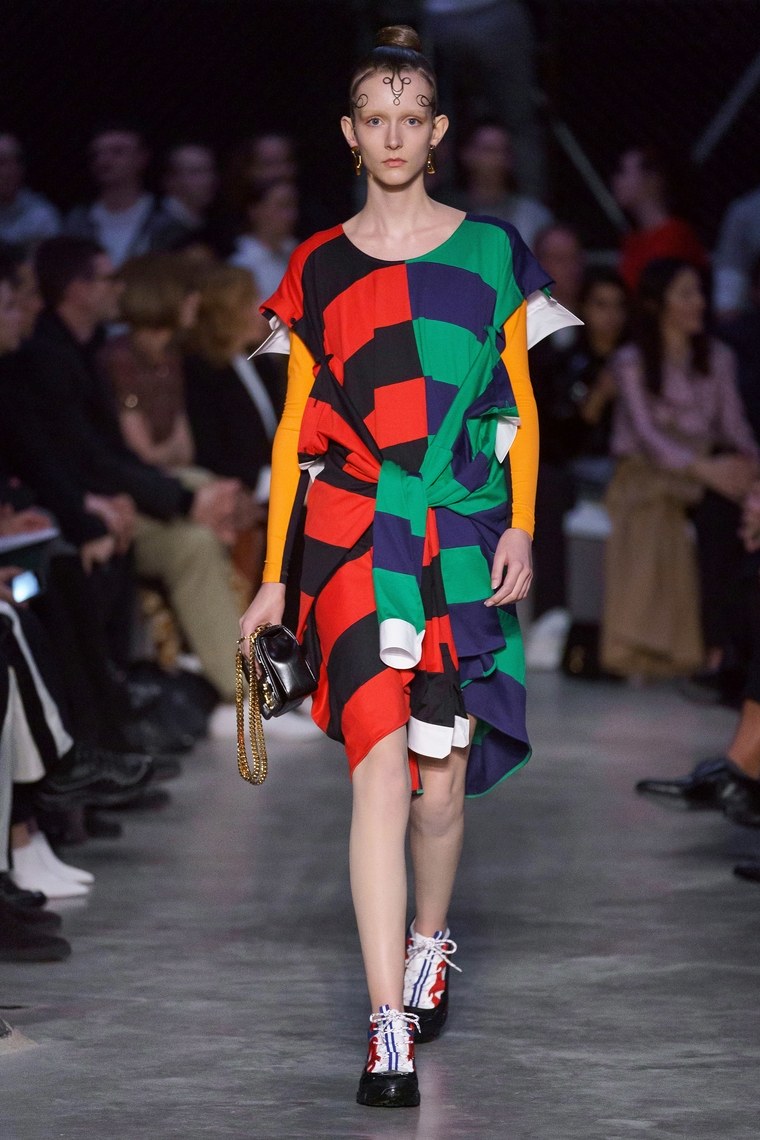 Burberry considered too wise? The new British fashion heavyweight stylist Riccardo Tisci proved the opposite by unveiling a bold and colourful collection, mixing streetwear, sequins, corsets and oversized coats, on Sunday at London's Fashion Week.
Dubbed "Tempest", the designer's autumn-winter 2019-20 collection is presented in a gallery at the Tate Modern in London. As is customary at Burberry, there are hundreds of guests and stars, starting with the American Gigi Hadid.
The star model paraded in a surprising monochrome polo neck mini-dress, on which Tisci juxtaposed a zipped corset with puffed sleeves. Confusing for the brand's regular customers, less so for those who have seen the work of the Italian, an expert in luxury streetwear, at Givenchy.
The rest of the collection is also surprising: pastel bombs, XXL neck padded jackets in the style of life jackets, dresses insolement cleaved and covered with silver medals, long drag coats like a wedding dress… After a first fashion show noticed last September, Tisci asserts his style with Burberry.
"For the first collection, it's a bit like I started writing my first letters, and now I'm writing a book in due form," he told AFP.
Victoria Beckham: back to the 70's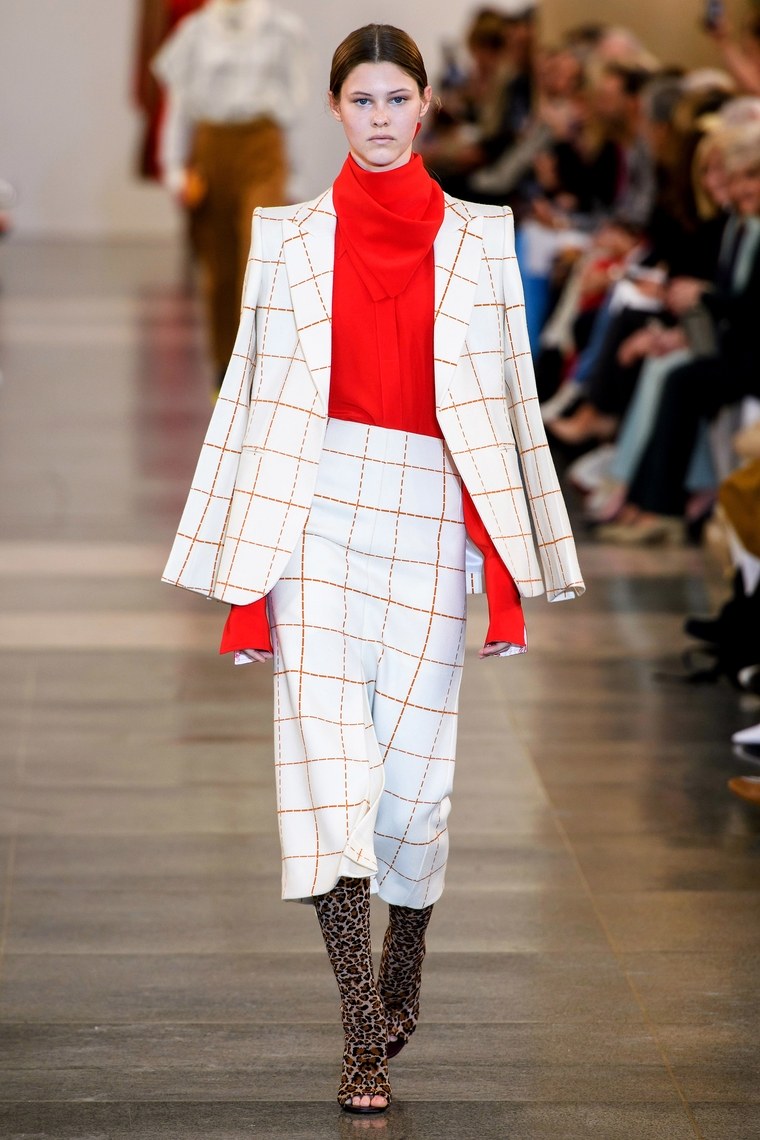 Pie scoop collars, jacquard sweaters and retro colours: British designer Victoria Beckham drew on the seventies to compose her autumn-winter 2019-20 women's collection, unveiled at London's Fashion Week.
Victoria Beckham says "Inspiring from the past" to make "proposals for the future". His choice to march through the galleries of the prestigious Tate Britain Museum, a neoclassical building housing some of the most beautiful treasures of British art, is a coherent choice in this spirit of the past and future.
In the seventies, Victoria Beckham borrowed the famous pie scoop collars, long and slender like the eponymous utensil, worn with jacquard sweaters close to the body and high waist tweed skirts. The tobacco-coloured pants are ample and comfortable and come with sophisticated flounced shirts with dotted squares.
The designer has also found in her "archives" a pattern of intertwined chains, with which she adorns long dresses with flared falls.
The chic and sober specialist, used to the New York podiums, was parading for the second time in London, after celebrating the tenth anniversary of her brand last year. "The studio is based here, as is our flagship store, and I wanted to continue participating in London's Fashion Week," she explained in The Guardian newspaper.
Hugo Boss and the minimalism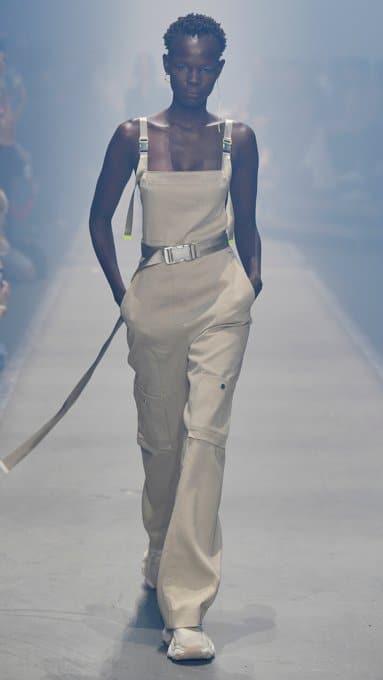 Hugo Boss, inspired by the city's artistic scene and architecture, this autumn-winter 2019 parade was presented in a gallery in Chelsea. The men's and women's collections paraded together, celebrating the German company's talent as a tailor.
Distinguished guests such as Dylan Sprouse, Barbara Palvin and Richard Madden attended the presentation, while the models walked the podium in elegant coats and beautiful capes made of turned skin, alpaca and cashmere, worn on refined monochrome sweaters or their striped versions. Some of the pieces were directly inspired by the geometric shapes dear to Mondrian.
Large envelope pockets, polybags with structured lines, platform boots and dress shoes added the finishing touch to these discreetly chic looks.
The colours, in general, revolved around a minimalist palette of white, black, camel, biscuit and grey with punctual touches of blue and yellow that perfectly highlighted the sculptural silhouettes of the collection.
This latest collection was presented just after the release of Boss' strong performance in the fourth quarter, with sales up 7% over the period. Annual profits should also increase thanks to solid growth in the United Kingdom, France and China, as well as on the company's new site.
Simone Rocha in romantic mode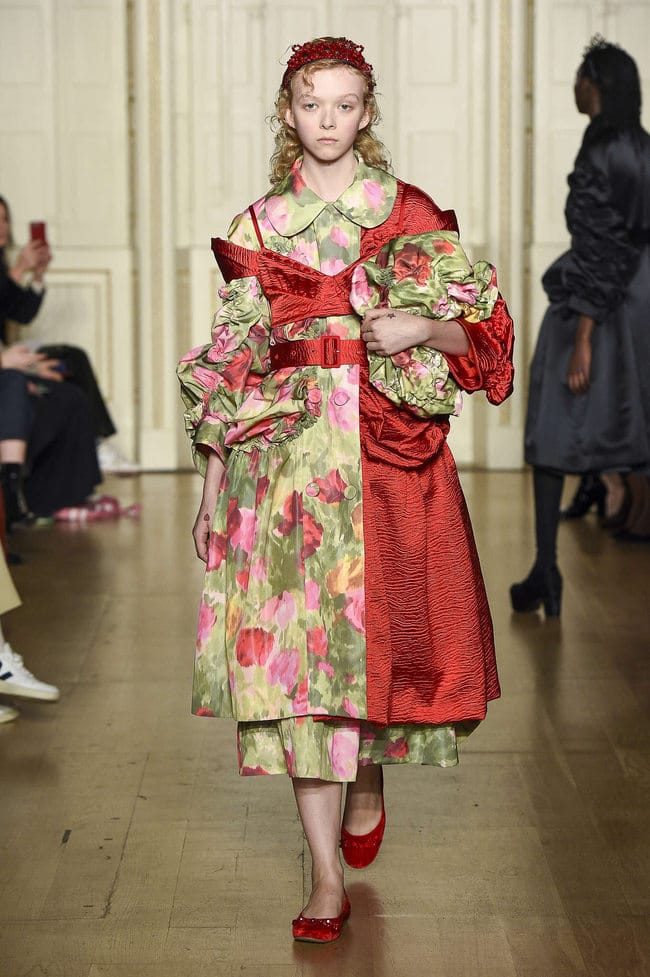 The collection mixed ultra-feminine visions with references to Louise Bourgeois' raw sculpture to create a true fashion statement. Since her first fashion show in 2010, Simone Rocha has developed a highly identifiable style, infused with romanticism, expressed with avant-garde poetry.
The Irish designer cuts dresses and coats trimmed with exaggerated ruffles, an avalanche of folds and gathers, without crushing the general purpose of her collections. She loves deep blacks, velvet, floral motifs and vintage silks – which give her clothes a certain majesty, but without making them dusty.
Under the gilded Royal Academy of Arts, the models wandered through several rooms in a row, dragged by a very dramatic soundtrack.
Chloe Sevigny, Jenny Howarth, Lindsey Wixson and a whole bunch of iconic models from previous decades paraded in semi-transparent tulle trench coats, worn over flesh-coloured dresses. Simone Rocha has chosen codes inspired by lingerie to complete a large part of her pieces.
The collection received an enthusiastic ovation from an audience that included British Fashion Council Ambassador Laura Bailey, singer Paloma Faith, stylist Daisy Lowe and others.
"Security and privacy. I started by playing with my ideas before putting myself squarely in the shoes of a voyeur," explains Simone Rocha in a burst of laughter, surrounded by her team behind the scenes of the parade.