[Luxus+ Magazine] Parties and secret places of the Happy Few on your screen

Would you like to discover the hidden places and the most exclusive parties of the Peoples? Eric Bonnet takes you by the hand and takes you there. He has created ENTREE INTERDITE TV, an entertaining Web TV accessible from your computer or phone.
With his experience as a columnist on LUXE TV and RTL9, Eric Bonnet has created ENTREE INTERDITE TV. He takes you to discover exceptional places from Monaco to New York, from Saint-Tropez to Marrakech, from Paris to Megève, which he was able to access thanks to his job.
"I am a lover of the French heritage, of art and craftsmanship. I am curious to be invited to new places and to meet great people. This is what motivated me to create ENTREE INTERDITE TV ", he explains.
This man is curious, likes to set himself challenges, to have fun, to collect confidences, always with benevolence. He finds hidden and unusual places, often inaccessible to the general public. He puts in confidence and questions his guests, personalities from the world of arts, fashion or cinema.
Click here to read the full article on Luxus Plus Magazine.
Featured Photo : © Patrice Lapoirie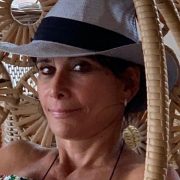 Corine Moriou
[EN] After working as an investment banker at Crédit Lyonnais, Corine Moriou turned to journalism at the L'Express group. The job she dreamed of at 18! As a reporter for L'Entreprise/L'Express for 15 years, she conducted interviews in the four corners of the world. 70 countries visited, 5,000 people interviewed, 10,000 smiles and laughs shared, 100 pairs of shoes worn. Today, she works as a freelancer. Her favorite subjects are culture, lifestyle, well-being and travel. Each encounter is a journey. Never blasé, always ready! ************** [FR] Après avoir été banquière d'affaires au Crédit Lyonnais, Corine Moriou a obliqué vers le métier de journaliste au sein du groupe L'Express. Le métier dont elle rêvait à 18 ans ! Grand Reporter pour L'Entreprise/L'Express pendant 15 ans, elle a fait des interviews aux quatre coins du monde. 70 pays visités, 5 000 personnes interviewées, 10 000 sourires et rires partagés, 100 paires de chaussures usées. Aujourd'hui, elle exerce son métier en free lance. Ses sujets de prédilection sont la culture, l'art de vivre, le bien-être, les voyages. Chaque rencontre est un voyage. Jamais blasée, toujours prête!