Moët Hennessy, the Wines & Spirits division of LVMH, is spotlighting environmental responsibility and paths to sustainability for the winemaking industry at the first ever Paris edition of Vinexpo.
By Luxus Plus
Moët Hennessy believes that sharing expertise is the best way to meet the environmental challenges facing the viticulture sector and has invited international experts to share and discuss their solutions at an agora space with an eco-design at its Vinexpo stand. The event has featured short-format panel discussions, exchanges and Q&A sessions, as participants seek to better understand key issues and the best ways to pass on mindfully preserved and healthier terroirs to future generations.
Founded in 1981 in Bordeaux, the Vinexpo wines & spirits exhibition is being held for the first time in Paris, joining events in New York, Shanghai and Hong Kong. Professionals have showcased their innovations and products in the French capital from February 10-12. Moët Hennessy is taking advantage of this marquee event for the industry to present the commitments of its Maisons to sustainable viticulture. During Vinexpo Paris, Moët Hennessy was hosting an agenda centered on transmission and sharing expertise and best practices.
The Moët Hennessy stand became an agora conceived to facilitate exchanges, listening and discussions. An impressive panel of international experts have been invited to address a range of issues surrounding innovation and the future and sustainability of winemaking activities. The design of the Moët Hennessy space engaged with all the players in the industry in order to forge collective responses to the fundamental climate challenges facing the entire viticulture sector today.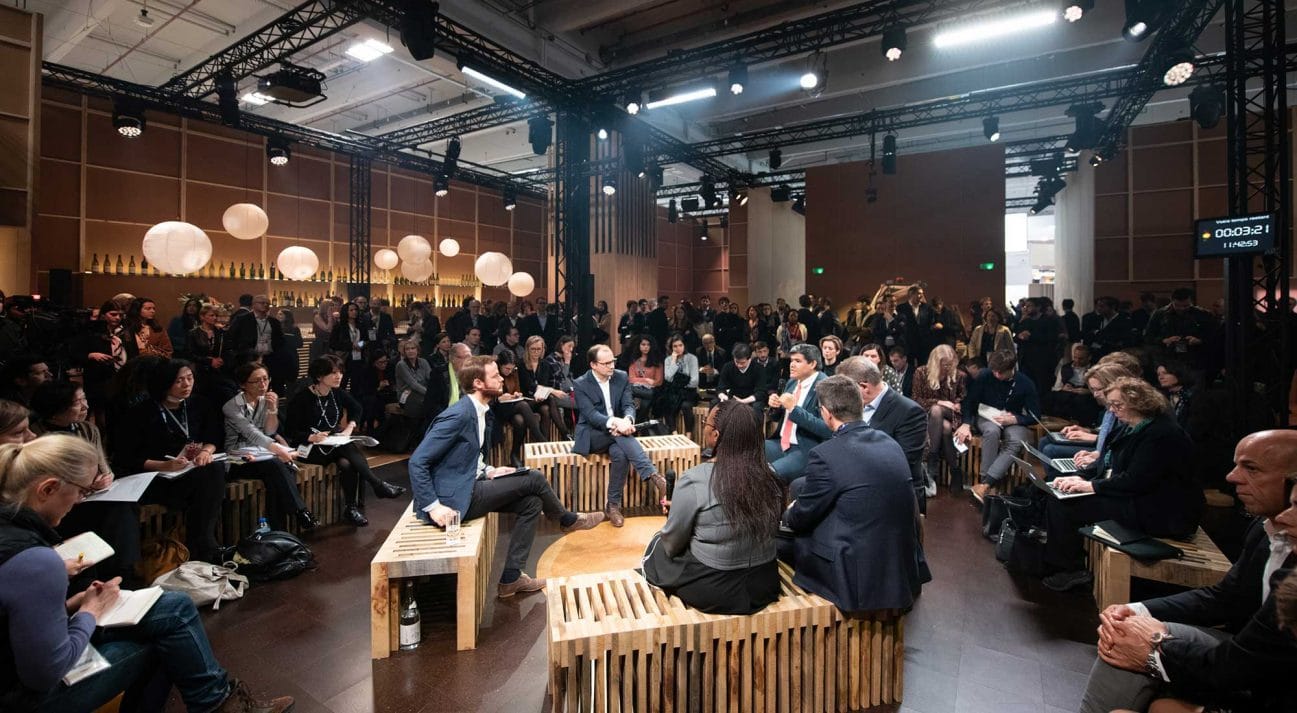 © Gabriel de la Chapelle
During his opening speech, Philippe Schaus, Chairman and CEO of Moët Hennessy, said: "Sustainable development is for us a form of humanism – a benevolent, rational and modern humanism. Through the "Living Soils" program, Moët Hennessy aims to unite its communities across the world and develop a global social responsibility program."
Vinexpo Paris is also an opportunity to present initiatives under way for many years across the Wines & Spirits division of LVMH, such as training in new technologies for winemakers and farmers, support for scientific and academic research, and significant investments in environmentally-friendly equipment. Several startups that are working with Moët Hennessy Maisons have been present at the stand as well, along with cutting-edge tools for the winemaking industry such as TED, an entirely autonomous vineyard weeding robot used by Hennessy.
These three days of brainstorming and exchanges took place on a stand with an eco-design aligned with Moët Hennessy's forward-facing approach to sustainability. Created by architect Jeanne Dumont, the stand was built entirely from cork and wooden staves, two emblematic materials in viticulture. The cork is sourced from sustainably managed forests and all the furniture on the stand will be reused by Taransaud, a Moët Hennessy supplier of wooden staves. All materials employed to construct the stand will be recycled, giving them a second life.
Read also: China's 'Gen Z' shoppers fuelling luxury market momentum: Bain