LVMH buys a 49% stake in Thélios from Marcolin

LVMH has reached an agreement with the Italian luxury eyewear group Marcolin to acquire the latter's 49% stake in Thélios.
The result of the collaboration between LVMH and Marcolin, Thélios has become one of the leading frame manufacturers with two production units producing 4.6 million eyeglasses in just four years. With this acquisition, LVMH strengthens its position in the optical market with a 49% stake, having already a participation in Dior and Fendi.
Marcolin will also buy back the 10% stake acquired by LVMH in the company when Thelios was created in 2017.
This transaction is intended to be a real opportunity for LVMH to further strengthen its presence in eyewear and benefit from Italian expertise in the field, and for Marcolin to pursue future strategic investments mit firma.
The trend in luxury seems to be towards eyewear. Indeed, LVMH's rival, Kering, also recently announced its intention to buy the high-end Danish brand Lindberg in July. The brand began creating an eyewear division in-house in 2014, reaching nearly €600 million in revenue by 2019.
Read also > LVMH PARTNERS WITH SMX TO ENABLE FULL TRACEABILITY OF ITS RAW MATERIALS
Featured photo : © Getty Images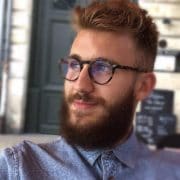 Anthony Conan
[FR] Diplômé journaliste plurimédias en 2019, Anthony Conan a multiplié les expériences, notamment en tant qu'assistant éditorial à TF1 ou journaliste radio à RCF Bordeaux. Il se spécialise dans le montage vidéo en plus de la rédaction, et développe un intérêt particulier pour l'économie.************** [EN] Graduated as a multimedia journalist in 2019, Anthony Conan has multiplied his experiences, notably as an editorial assistant at TF1 and as a radio journalist at RCF Bordeaux. He specializes in video editing in addition to writing, and has developed a particular interest in economics.