[Luxus+ Magazine] These winegrowers who make champagne sparkle… until Aube (Part 3/3).

We announced it in the first part of our series dedicated to the winegrowers of the Aube. Ten of the most beautiful and promising champagne houses of the Côte des Bar and Montgueux came to celebrate at the Elysée Pavillon the 20thanniversary of the Hôtels and Préférence group, an international French group with one of the most impressive collections of 4- and 5-stars hotels in France. In this third gustatory stage, we share with you two hidden treasures of the Côte des Bar.
Our meetings end with two domains with exclusive products.
Their names may not be familiar to you (yet) and yet they could well cause a sensation at your next reception…
One is a lover of the earth, energies and the cosmos, the other of art and heritage, but both share a passion for champagne wine: Erick Schreiber and Vincent Grandpierre.
Let's start with Erick Schreiber, an organic producer who harvests and handles, is Ecocert certified and produces Demeter certified biodynamic champagnes.
With 33 years of experience in biodynamics, the man is not only a reference but also inexhaustible on this method of organic viticulture which requires to be "attentive to the solar and lunar rhythm, according to the constellations". The idea is to feed the soil with a double preparation. "One will intensify photosynthesis and allow the cells to reorganize in the plant according to the sun while the other will intensify the microbial life of the soil and allow the roots to dive deeper into the soil." This biodynamic approach, true to Rudolf Steiner's method, notably "accentuates the living world of the soil." And that translates into champagne wines that differ from what's out there.
A pioneer in biodynamic viticulture, Erick is just as much a pioneer in the reintroduction of forgotten grape varieties in Champagne (Pinot Blanc and Pinot Gris).
Presentation done, it's time to taste this "champagne otherwise."
This free spirit proposes to start the experience with two champagnes, perfect for the appetizer (cold meats and cooked cheeses). First, an extra brut. It is a blend of several years from the "grande réserve" cuvée but with a very low dosage (1.32 g/l). A very fine bouquet with a beautiful aromatic complexity delivering a lot of freshness and presenting a beautiful holding in the mouth.
Next comes the Cuvée Prestige vintage 2014, which perfectly balances Pinot Noir and Chardonnay. Subtle and delicate, it plays on variations of white fruits, fresh almonds, and honey. Now it's time for the real gems, those that really break the codes of traditional champagne. And we start with his Blanc de Gris 2015, a UFO summoning the champagnes of old times thanks to a rare blend (58.2% pinot blanc and 41.5% pinot gris). On the palate, fresh almonds are expressed with a touch of minerality that makes the singularity of the Kimmeridgian, the rock mostly present in the Côte des Bar and found on his farm in Courteron. "it's a 158-million-year-old limestone rock that came from the disappearance of a shallow sea." He adds, "it's a crescent that runs from the south of England, through Chablis – so we have virtually the same subsoil – and ends in the Seine bay." The iodine dimension of this champagne makes it particularly suitable for langoustines, caviar and oysters. The whole presents a lot of finesse and complexity with power and texture.
Click
here 
to read the full article on Luxus Plus Magazine.
Featured photo: © 2011 – 2023 Erick Schreiber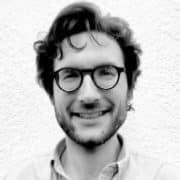 Victor Gosselin
[EN] VICTOR GOSSELIN IS A JOURNALIST SPECIALIZING IN LUXURY, HR, WEB3 AND RETAIL. HE PREVIOUSLY WORKED FOR MEDIA SUCH AS SPARKS IN THE EYES, WELCOME TO THE JUNGLE, LE JOURNAL DU LUXE AND TIME TO DISRUPT. A GRADUATE OF EIML PARIS, VICTOR HAS EXPERIENCED MORE THAN 7 YEARS IN THE LUXURY SECTOR BOTH IN RETAIL AND EDITORIAL. CULTIVATING A GREAT SENSIBILITY FOR THE FASHION & ACCESSORIES SEGMENT, HERITAGE TREASURES AND LONG FORMAT, HE LIKES TO ANALYZE LUXURY BRANDS AND PRODUCTS FROM AN ECONOMIC, SOCIOLOGICAL AND CULTURAL ANGLE TO UNFOLD NEW CONSUMPTION BEHAVIORS. BESIDES HIS JOURNALISTIC ACTIVITY, VICTOR ACCOMPANIES TECH STARTUPS AND LARGE GROUPS IN THEIR CONTENT PRODUCTION AND EDITORIAL STRATEGY. HE NOTABLY LAID THE FOUNDATIONS FOR FASHION & LUXURY TRENDY FEATURE ARTICLES AT HEURITECH AND WROTE THE TECH SPEECHES OF LIVI, INNOVATION INSIDER OF THE LVMH GROUP.************** [FR] Victor Gosselin est journaliste spécialiste des univers luxe, RH, tech et retail, passé par Sparks In The Eyes, Welcome To The Jungle, le Journal du luxe et Time To Disrupt. Diplômé de l'EIML Paris, il dispose de plus de 7 ans d'expérience dans le secteur du luxe aussi bien sur la partie retail que éditoriale. Cultivant une grande sensibilité pour le segment mode & accessoires, l'Asie, les trésors du patrimoine et le long format, il aime analyser les marques et produits de luxe sous l'angle économique, sociologique et culturel pour révéler de nouveaux comportements de consommation. En parallèle de son activité journalistique, Victor accompagne les startups tech et grands groupes dans leur production de contenu et leur stratégie éditoriale. Il a ainsi posé les bases des articles de fond tendanciels Mode & Luxe chez Heuritech ou encore rédigé les prises de parole tech de Livi, Innovation Insider du groupe LVMH.