[Luxus+ Magazine] Meeting with an artist (Episode 6) : Cyrielle Clair as Marlene Dietrich, at the Théâtre de la Tour Eiffel

Cyrielle Clair, former resident of the Comédie Française, brings Marlene Dietrich's tumultuous life to life with emotion and panache at the Théâtre de la Tour Eiffel. From Berlin cabarets to her opposition to the Third Reich, the Blue Angel was committed to the Allies and to the France she loved so much.
It is at the Théâtre de la Tour Eiffel that we find Cyrielle Clair after her vibrant performance, this Friday evening. We hardly recognize her with her long flaming hair, so hypnotized by the Marlene she plays on stage. Phil de Rodrigue, illustrator, gives her a double portrait where the two women combine their destiny.  The interpreter of "Marlene Dietrich, alone on stage" invites us to join a table of friends who are impatiently waiting for her in an Italian restaurant on Avenue Rapp. She talks to us about herself through the mirror that the music-hall star holds up to her. A meeting with a passionate and radiant actress.
[…]
Click here to read the full article on Luxus Plus Magazine.
Featured Photo : © Cyrielle Clair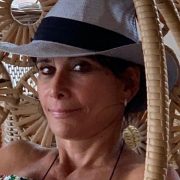 Corine Moriou
[EN] After working as an investment banker at Crédit Lyonnais, Corine Moriou turned to journalism at the L'Express group. The job she dreamed of at 18! As a reporter for L'Entreprise/L'Express for 15 years, she conducted interviews in the four corners of the world. 70 countries visited, 5,000 people interviewed, 10,000 smiles and laughs shared, 100 pairs of shoes worn. Today, she works as a freelancer. Her favorite subjects are culture, lifestyle, well-being and travel. Each encounter is a journey. Never blasé, always ready! ************** [FR] Après avoir été banquière d'affaires au Crédit Lyonnais, Corine Moriou a obliqué vers le métier de journaliste au sein du groupe L'Express. Le métier dont elle rêvait à 18 ans ! Grand Reporter pour L'Entreprise/L'Express pendant 15 ans, elle a fait des interviews aux quatre coins du monde. 70 pays visités, 5 000 personnes interviewées, 10 000 sourires et rires partagés, 100 paires de chaussures usées. Aujourd'hui, elle exerce son métier en free lance. Ses sujets de prédilection sont la culture, l'art de vivre, le bien-être, les voyages. Chaque rencontre est un voyage. Jamais blasée, toujours prête!