The appointment of Noémie Dumesnil as Operations Director of Authentic Material follows on from a €1.5 million contribution in December 2019 to the capital of the Toulouse-based company. Specializing in the exploitation of natural materials destined for destruction, whether scrap or unsold, the start-up founded in 2016 by Vincent Menny, engineer by profession and president of the structure, has developed a natural treatment process that allows organic raw materials to be reworked and then reused.
Interview with the co-director in charge of business development at Authentic Material, the start-up that recycles noble materials from the luxury industry to design precious and innovative materials.
Can you remind us of the genesis of Authentic Material ?
The story of Authentic Material began in 2016 when Vincent Menny, who had been my technical partner for five years in our previous company, noticed during a project involving art cutlery that cow horns were causing ecological problems linked to their supply. Indeed, these living natural materials which are not "Made in France", and generally come from the other side of the world, often lack quality and homogeneity. This causes losses when the material is being machined.
At the time, we were also working together on a completely different project in the aeronautics field, which involved developing a technology for manufacturing metal powders.
Vincent then had the idea to apply this technology to natural materials and therefore to work on French cow horn powders to make machinable, high performance and high quality blocks of material and to use them in the luxury industry.
Beyond investment funds and business angels, we are today the two operational partners: Vincent is the founding president, in charge of all technical and industrial development and I am personally in charge of the sales and marketing division.
Have you recently solicited investors. What was your ambition?
Yes, we did raise funds at the end of 2019 from Cuir Invest as well as from BPI's investment fund for creative industries and rare know-how. Two important investors for us because they are specialists in all our key subjects, namely leather, rare skills and luxury.
The aim of this €1.5 million fund-raising campaign was to industrialize our processes, which means scaling up our production capacity, equipment and human resources. This investment finally appears to be very timely in the current context.
How are you experiencing today the impact of the Covid-19 pandemic?
It is clear that the health crisis has cut off our momentum, after an accelerated start to business in January. But what is clear is that the crisis has also made our customers think about how they are sourcing their products and their CSR approaches. This is of course something very positive for our development.
In fact, some brands we were already working with reaffirmed their loyalty to us, others we were in contact with stepped up their actions towards us, while others reiterated their eco-friendly commitment but simply decided to postpone their orders to a later date pending a return to stability.
Can we consider that there are different demands or expectations depending on the luxury sector?
Absolutely, that's why, inside sales team, we try to assign the same person to one or more fields, for example watchmaking or automotive.
In leather goods, for example, there is today a strong interest in leather recycling with the desire to create value from scraps, to reduce storage and destruction costs, to drive forward the circular economy.
Following this trend, we want to deconstruct consumers' beliefs about what an organic material is, and what is scientifically possible today or not, in order to "educate" them so that they can convey this message in their turn. We are also present to answer their questions, particularly those related to our natural composite range, in which we integrate bio-sourced polymers to limit the material's deficiencies concerning shock, water, etc.
Overall, our approach is based on a pursuit of naturality: we charge the maximum amount of natural materials and the minimum amount of constituents into the material. The objective is to recycle the waste in sufficient quantities and to ensure the highest possible level of authenticity.
Are you also taking a stand on unsold goods?
Yes indeed, and this raises the question of the disassembly of the product itself, which is not at all a trivial matter because a product involves many weaves, metal parts to be separated, materials such as glue to be removed with the aim of mechanically or chemically disintegrating these binders.
We have a partner, ReValorem, who can do manual disassembly but we are also investigating the design of special automated machines.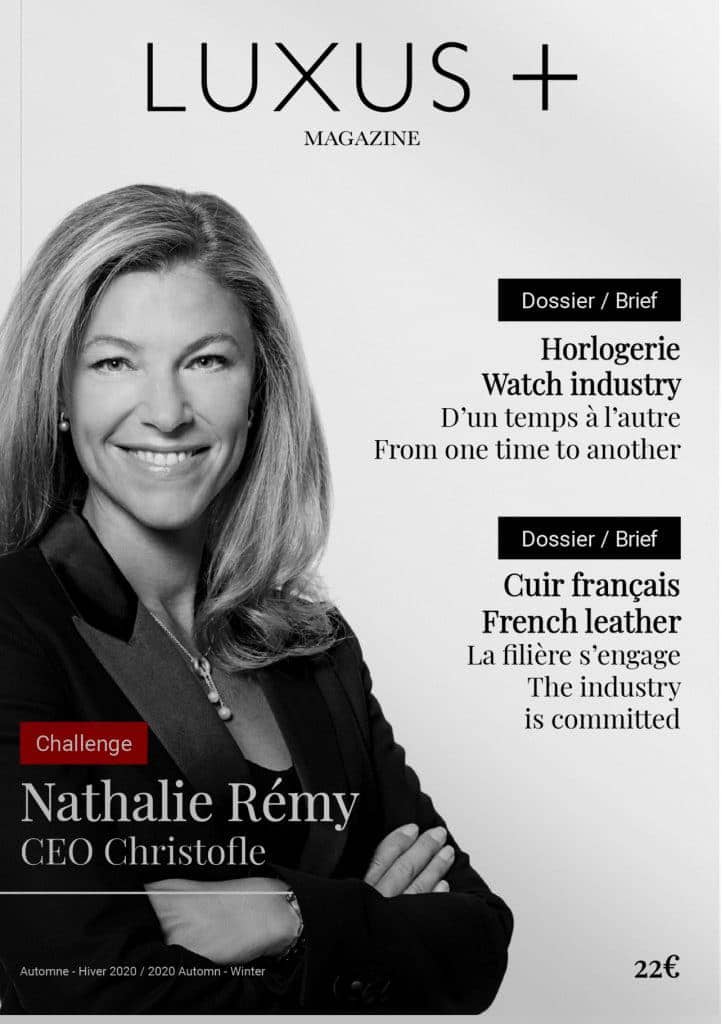 YOU CAN READ THE FULL INTERVIEW BY ORDERING THE NEW ISSUE OF THE LUXURY JOURNALS 
YOU CAN ALSO FIND THIS ARTICLE BY SUBSCRIBING TO THE MAGAZINE + DIGITAL PACKAGE.
Featured Photo : © Noémie Dumesnil