In September, in the fashion press, on the Internet or on bus shelters… the campaigns of the most emblematic luxury brands are annexing ever more territories and our attention spans. This season, more than ever, luxury is asserting its status as a cultural product, with autumn-winter campaigns that are more cerebral and documented than ever.
Long disparaged by advertisers as nothing more than an augmented product packshot, luxury campaigns are getting a makeover.
For the Autumn-Winter 2023 collection, it's a question of cultural renaissance, with Ferragamo paying direct homage in its own way to the Italian painters of the Quattrocento. Or on a more contemporary note, with Versace, which resurrects the supermodels of the 1980-1990s, in the wake of the September issue of Vogue and the Netflix documentary dedicated to the phenomenon of these powerful women.
It's also a stylistic renaissance with Jacquemus, who, with Gigi Hadid, the supermodel adored by millennials, offers a rejuvenating bath full of playfulness and surrealism.
For the back-to-school season, Luxus Plus has selected eight fashion campaigns to help you get up on the right foot on office day and prepare for your rigorous to-do list.
Versace
The Italian fashion house, in the midst of a revival, is experiencing an unprecedented fetishization on the part of younger generations, fueled in particular by the broadcast on Arte of a documentary devoted to its Medusa and inheritance story.
After having proposed the absolute antithesis of Quiet Luxury, anticipating the fuchsia pink of the Barbie blockbuster for its summer fashion show La Vacanza, starring singer Dua Lipa from the pool-mirror of the Château de la Croix des gardes, on the heights of Cannes, time has come for a more austere rendering around the silhouette, between light and shadow.
This season, photographic duo Mert Alas and Marcus Piggot chose to capture the 80s Power Dressing spirit – all in shapely shoulder pads – with a line-up of models including Gigi Hadid, Karolina Spakowski, Angelina Kendall and Anok Yai. In other words, a choral vision of the house's heritage of both historic icons and New Faces.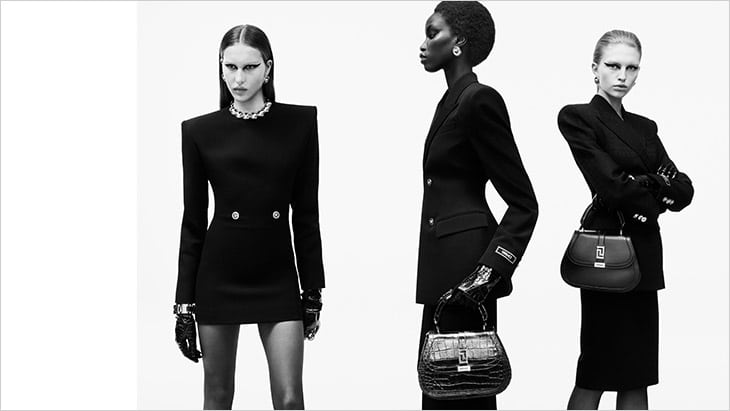 Read more on Luxus Magazine by clicking here.
Featured Photo : Ferragamo