The Ellinikon is one of the largest urban projects in Europe. Located on the coast, 45 minutes from the city center of Athens, it will soon take the form of an eco-responsible city without equal on the old continent. A vast resort that will consist of a business park and upscale hotels.
The Ellinikon represents the future and development of Greece in terms of eco-responsibility and sustainability. The project is expected to house the Riviera Tower, the future tallest building in Greece and the first skyscraper, with construction expected to be completed by March 2026.
This futuristic project will consist of a sustainable smart city of 6.2 million square meters located on the site of the former Athens airport. It represents a new global standard in resilient urban design, smart living and investment growth opportunities, almost doubling the amount of green space in the Athens metropolitan area.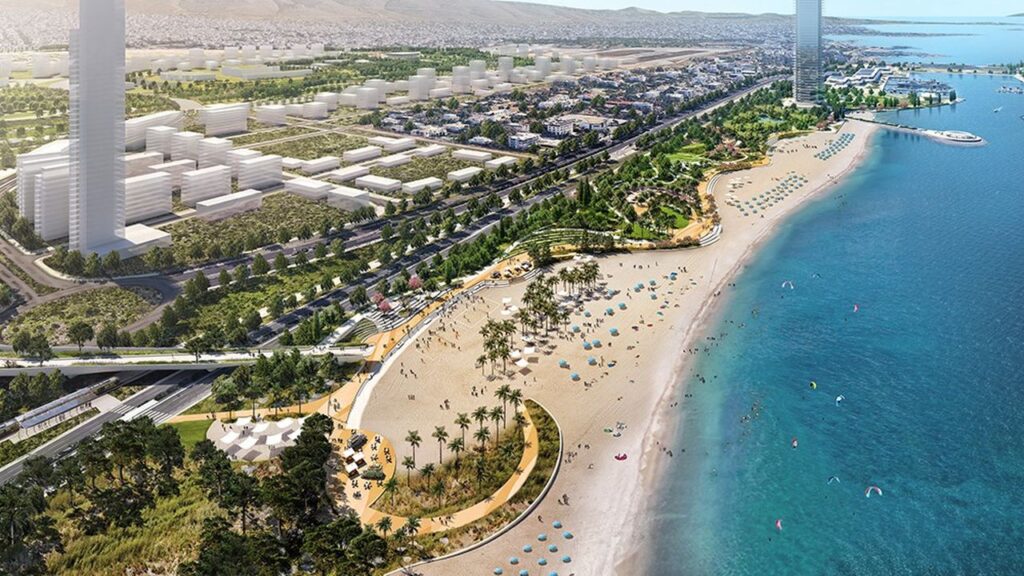 Built from A to Z and covered in just 15 minutes, the Ellinikon will offer residential and commercial offers but also recreational, retail, catering, entertainment, education and athletics facilities, making this project one of the most innovative and diversified destinations in Europe, both for residents and tourists.
The Ellinikon: new Greek star
Designed by architectural studio Foster + Partners, the Riviera Tower will house a collection of one- to five-bedroom residences and penthouses. Residents will be able to admire and enjoy the extraordinary views as well as easy access to the beach.
"We are at a time in history when sustainable development and investment must be bold to meet the need for change in the design of urban experiences," said Odisseas Athanasiou, CEO of Lamda Development. "The Ellinikon will have a transformative effect on both Greece and the world, bringing a new standard for smart and inspiring indoor and outdoor spaces, while significantly advancing the sustainability of the places we live, work and have fun in the long run".
The Ellinikon is attracting considerable interest from investors, consumers and the public. The first part of the park delivered to the public -the Experience Park- exceeded one million visits in less than a year. In addition, the Ellinikon Experience Centre, a unique and impressive visitor center giving a glimpse of the future city of Ellinikon, has quickly become a must-see destination in Athens.
This project is associated with great creative minds, including Foster + Partners, Kengo Kuma & Associates, Aedas and Sasaki architects, for the design, while world-renowned brands have signed agreements and memoranda of understanding to be part of it. And the fallout promises to be impressive. The project is expected to generate €14 billion in additional government revenue, 85,000 jobs and about 2.4% of Greece's GDP.
[…]