On Monday, September 18th, it was Burberry's turn to present its new collection at London Fashion Week. Designer Daniel Lee reinvented the brand's summer fashion, reimagining the iconic trench coat and introducing fruity prints. The runway show attracted a multitude of celebrities, promising a new era of British elegance.
Daniel Lee, the English designer at the helm of Burberry since September 2022, unveiled his second Spring-Summer 2024 collection on Monday. Burberry, the iconic British brand founded in 1856, seemed to be the most anticipated highlight of London Fashion Week.
Under a tent set up in a park beneath the ever-changing London sky, the runway show offered a bold reinterpretation of Burberry's codes, as the 37-year-old designer explained that his collection was 'an exploration of lightness, sensuality, beauty, and elegance.'
Trench coat and fruity prints in the spotlight
The trench coat, an iconic piece for Burberry since 1912, was boldly reimagined by Daniel Lee. This season, it comes in an oversized, effortless version, in leather or sleeveless, with or without a belt. The designer even took the risk of exploring it in flashy or orange colors. This reinterpretation also aligns with the House's commitment to an outdoor aesthetic, a recurring theme in this summer collection. Accessories, bags, and loafers were also given a modern twist.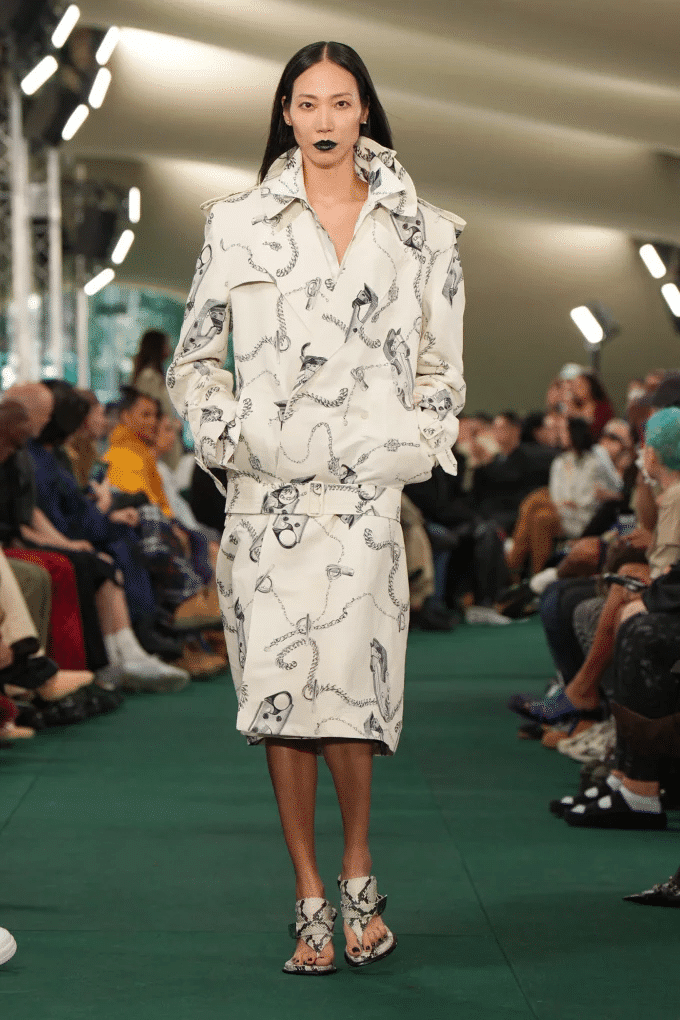 But prints also took a central place in the collection, challenging Burberry's traditional tartan. Jewelry and hardware are transformed into true hand-painted works of art, adorning fluid dresses and all-over printed pieces.
Read more on Luxus Magazine by clicking here.
Featured photo : ©Getty Images