From September 16 to February 25, London's Victoria & Albert Museum is devoting an exhibition to Coco Chanel, the unheralded French designer. In addition to sublime outfits, this major retrospective uncovers evidence that the fashion designer was a proven member of the French Resistance. But unpublished documents also prove, on the contrary, that she acted as a Nazi agent…
The exhibition "Gabrielle Chanel. Fashion Manifesto" was officially opened to the general public on Saturday, September 16, 2023, marking the first British exhibition dedicated to the work of the famous French couturier Gabrielle, nicknamed "Coco" Chanel. It will run until February 25, 2024.
The exhibition traces the evolution of her iconic style and the history of the House of Chanel, from the opening of her first hat store in Paris in 1910 to the presentation of her final collection in 1971.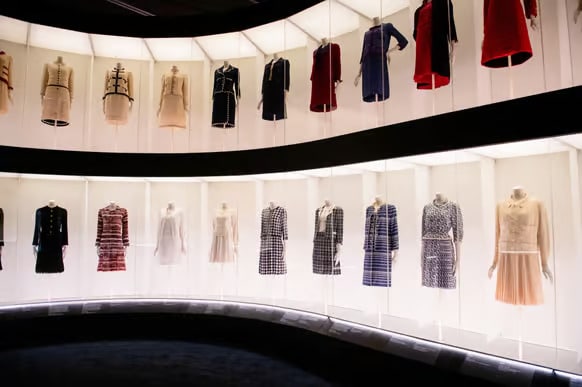 But in addition to the designer's iconic pieces, the exhibition features documents relating to her activities in occupied Paris. "We couldn't do an exhibition on Chanel without addressing her wartime past," said curator Oriole Cullen.
Historical blur
Previously unpublished documents reveal that the name "Gabrielle, aka Coco Chanel" is among a list of 400,000 people whose contribution to the Resistance is officially documented. "We have confirmations from the French government, including a document dated 1957, which attests to her active involvement in the resistance," confirms the curator.
But the museum also presents solid evidence of Chanel's collaboration with German authorities during the occupation of Paris. This evidence includes transcripts of post-war interrogations of three Nazi officials, each of whom mentions Coco Chanel as a trusted source. Ms. Cullen emphasizes that "this new evidence does not exonerate her. It simply complicates the picture. All we can say is that she was involved on both sides."
Read more on Luxus Magazine by clicking here.
Featured photo : © GettyImages