While Haute Couture has just taken over from the Men's Fashion Week, which ended on January 20th, take a look back at some of the most important Parisian fashion shows.
By Hélène
Dior catwalk on a conveyor belt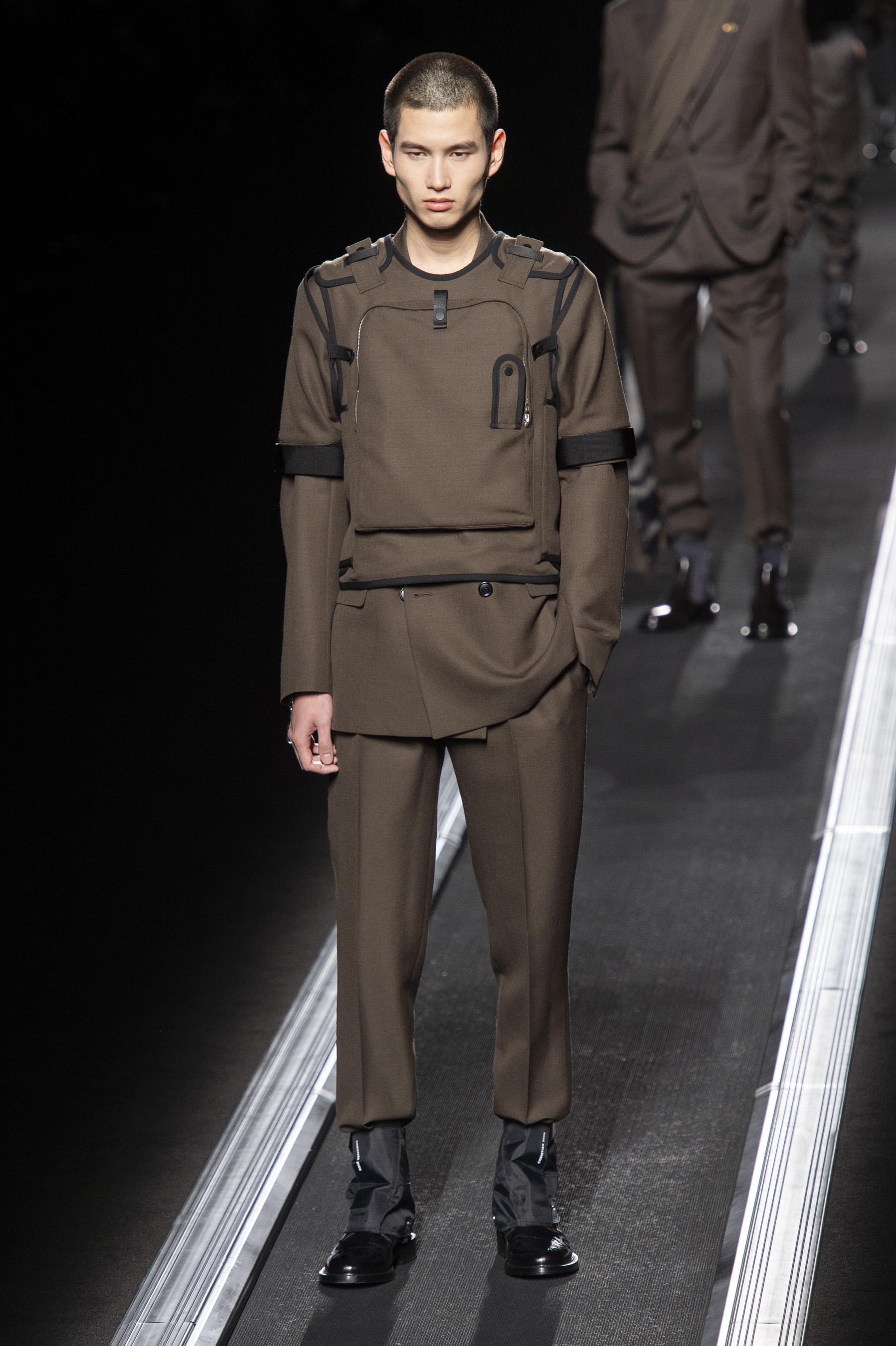 The Dior Men fashion show was orchestrated with military precision, while finely incorporating the soul and history of Paris.
For the British designer, Dior has built an impressive setting: a huge black box crossed by a 78-metre-long conveyor belt, surveyed by perfectly selected models. Fashion living paintings.
Dior's DNA infused the collection while remaining true to Kim Jones' vision. Like this punk version, painted in a spray can, the animal print "Panthère" by Monsieur Dior or these superstitious amulets, which belonged to Christian Dior, transformed into safety pins decorated with a CD logo. Punk, Parisian, refreshing, all served on a conveyor belt scrolling through the models.
Louis Vuitton pays tribute to Michael Jackson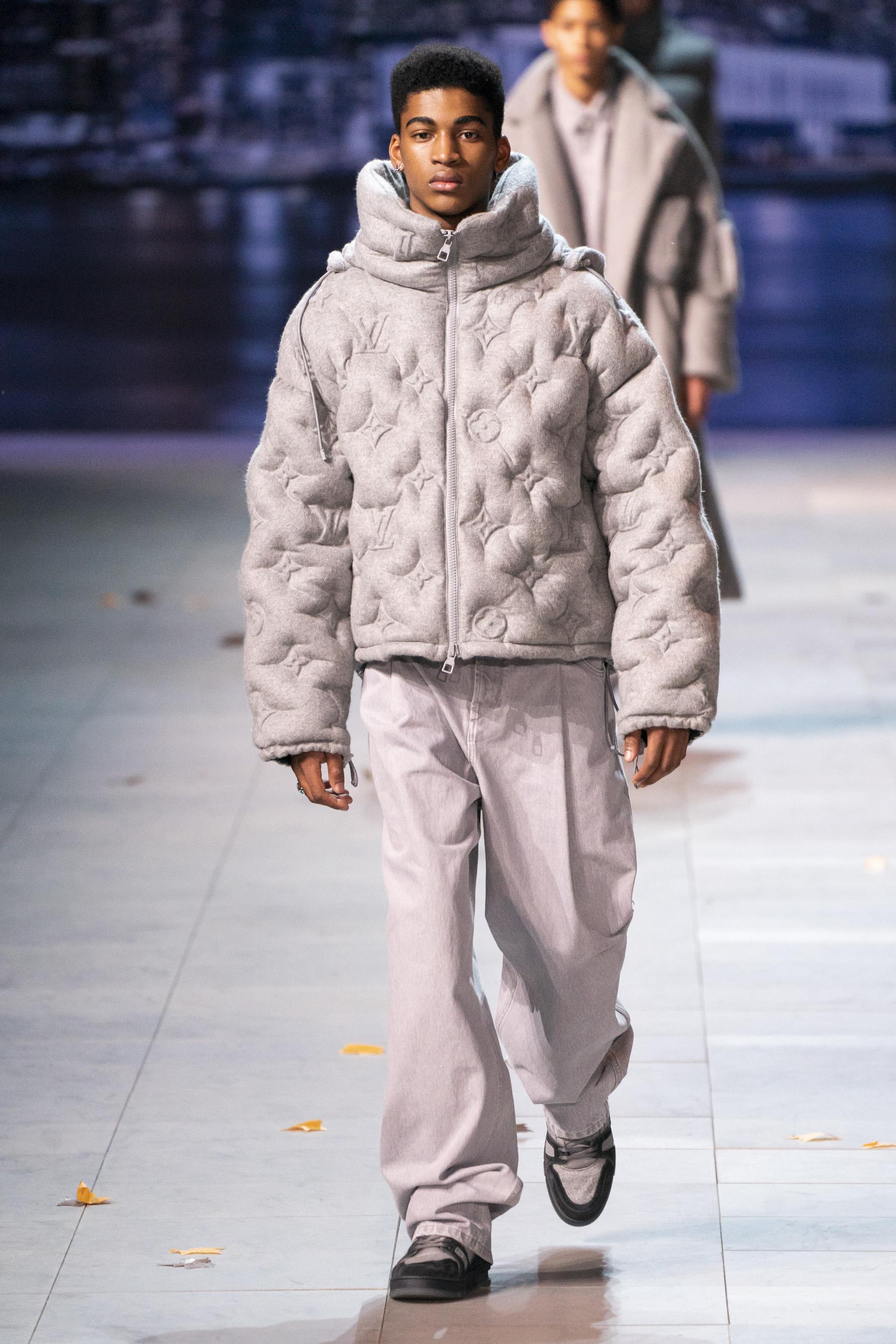 Virgil Abloh dedicated the men's collection for Louis Vuitton to Michael Jackson.
As an invitation to this impressive parade performance with live music in the Tuileries garden, the 38-year-old designer, the first African-American to lead the creation of a major French luxury house, sent a glove covered with crystals like those of the pop singer.
He even included the flag of the singer's state, Indiana, in one of the folded pieces with flag motifs from around the world, adding a touch of bright colours to a rather monochrome collection – mottled grey, pearl grey, charcoal grey.
On the clothing side, he paid tribute to the singer who made "extraordinary" simple pieces such as jackets, gloves, socks or hat. The models paraded past a "unisex barber shop" in an imagined street in New York City, where an artist was drawing graffiti. The accessories have left their mark on people's minds, among others, an ultra-coloured fluorescent bag that ignites social networks.
Celine: Hedi Slimane debuts men's collection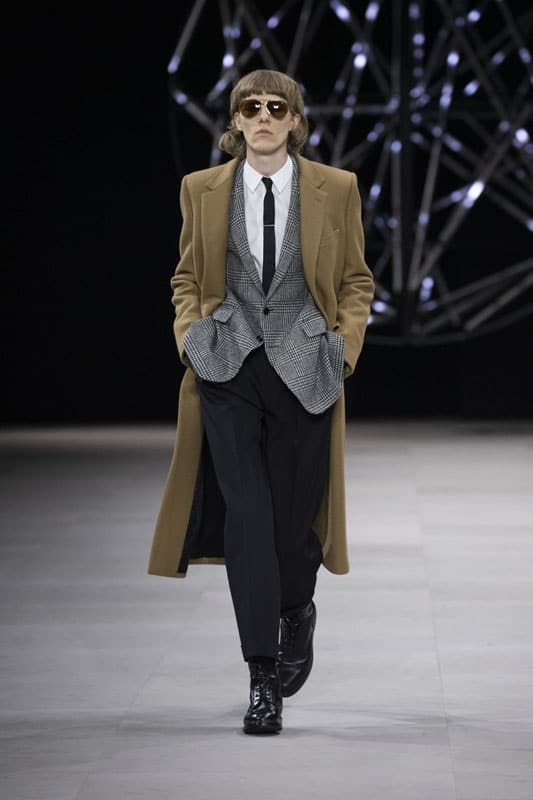 Hedi Slimane offered the highlight of this Paris Men's Fashion Week with a powerful collection that opens a new chapter for the designer, this time inspired by the hectic life of London.
At first glance, the Parisian designer was inspired by the entire New Wave movement of the late 1970s, but without denying his own universe. Flared volumes, a modernised silhouette and dazzling metallic finishes on the fabrics.
Short, wide and rolled up trousers, studded biker jackets with articulated elbows, coats with striated animal motifs, haute couture perfectos stitched like a horse saddle: the male wardrobe was reviewed by the designer.
Hermès always elegant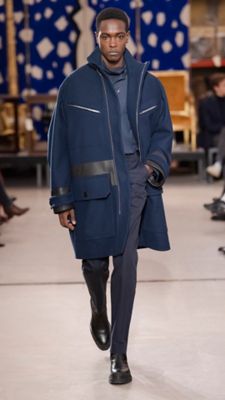 It is the modernist National Furniture building, built in 1936 by Auguste Perret on the former gardens of the Manufacture des Gobelins, that Hermès has chosen to present its men's collection for the autumn-winter 2019-20. As Artistic Director Véronique Nichanian explains, the idea was to show "a sense of common values and shared know-how".
A man who is naturally elegant and subtly sophisticated, who makes no mistakes in its wardrobe. An apparent simplicity, even more underlined this season by a predominantly dark palette (navy, night blue, anthracite, black) and very linear cuts, behind which lies the essence of Hermès luxury with superb precious materials giving place for skins.
From patinated calf trousers in different colours to overshirts with large stripes in rubber lambskin, to jackets on the ribs in the same ultra-soft skin or some trench coats in waxed rubber fabric, the pieces are as simple as they are precious and desirable.
Jacquemus is inspired by work in the countryside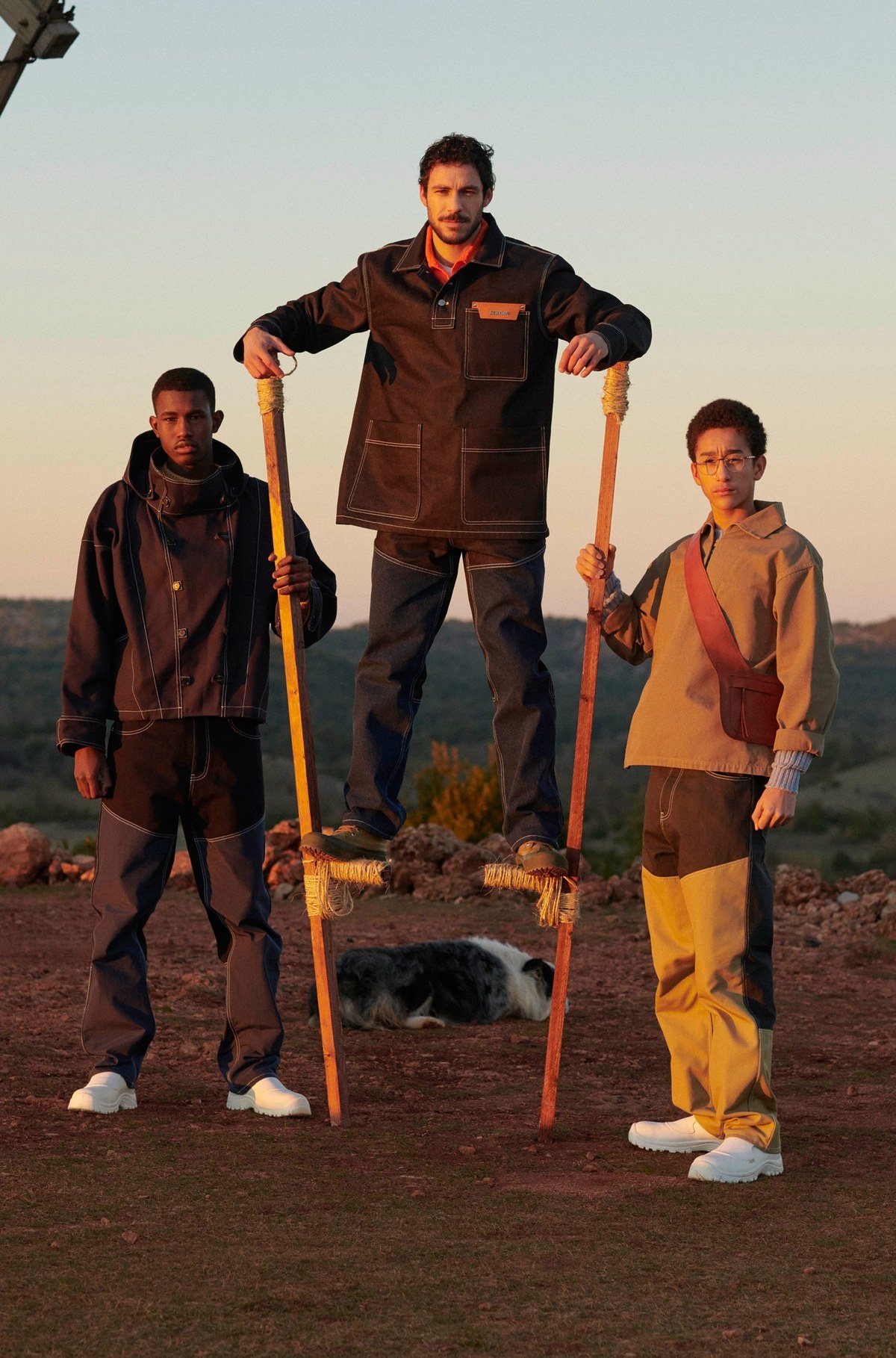 Simon Porte Jacquemus presented his second men's ready-to-wear collection, inspired by work clothes in the countryside, on Sunday during a fashion show as atypical as this designer who claims his provincial origins.
The models in work jackets fused with utility vests paraded among guests eating toast buttered with jam and cheese. At the end the models sat around a table to take a slice of bread too.
"I didn't feel comfortable with the idea of a real fashion show," Simon Porte Jacquemus told the press, who had shown his first men's ready-to-wear collection in June in a Marseille cove.