Luxury and manga: An explosive connection!

These are two very distinct fields, and yet! It happened that the universe of Japanese comics crossed with that of luxury fashion, through collaborations that were surprising to say the least.
Luxury fashion remains a sector associated with France, thanks to its great fashion shows, its famous designers and its emblematic brands. Manga, on the other hand, has been predominant in Japanese culture for several centuries. But it is interesting to note that following the popularization of manga in the early 90s, our country has become the second largest consumer of this literary style in the world. Even for a foreigner of the genre, the names Goldorak, Dragon Ball or Naruto inevitably evoke something!
And if some mangas have collaborations with Nike, Adidas or Supreme, the luxury goods industry is not left out and has thus invested in recent years in this world likely to attract new customers and new territories. Indeed, luxury brands are still willing to apply a marketing strategy to develop outside Europe, and Asia remains a very demanding continent in terms of luxury.
On the occasion of the presentation of the collection Fall / Winter 2019, the Italian house MSGM had unveiled coats and jackets representing the drawings of the Japanese series Olive & Tom. A real nod to all the children born in the 90s – and the great nostalgic – who were able to discover this series mixing perfectly soccer and anime.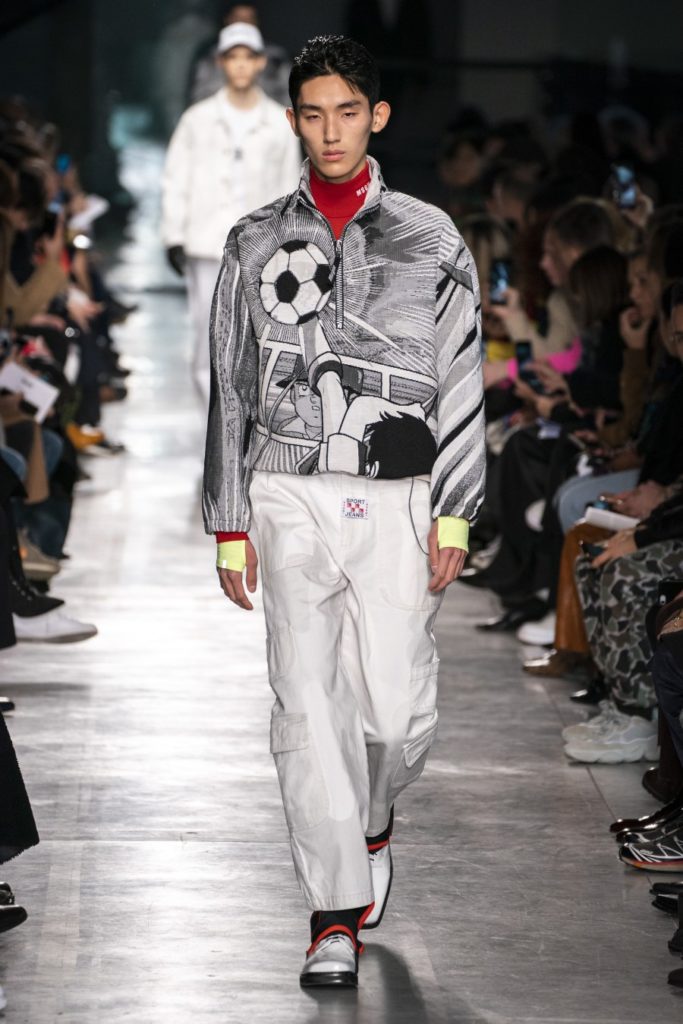 Gucci is also starting to appropriate manga in these collections. After calling on Hirohika Araki, author of Jojo's Bizarre Adventure, to present its collection in 2013, it was in October 2020 that the Italian label made news by announcing its collaboration with the very famous One Piece manga. And at the beginning of 2021, Doraemon, a robot cat from the future, very popular in Japan, was featured on Gucci T-shirts, jackets and monogrammed bags. These recent references to manga suggest that the Italian brand is not done pleasing Japanese anime fans.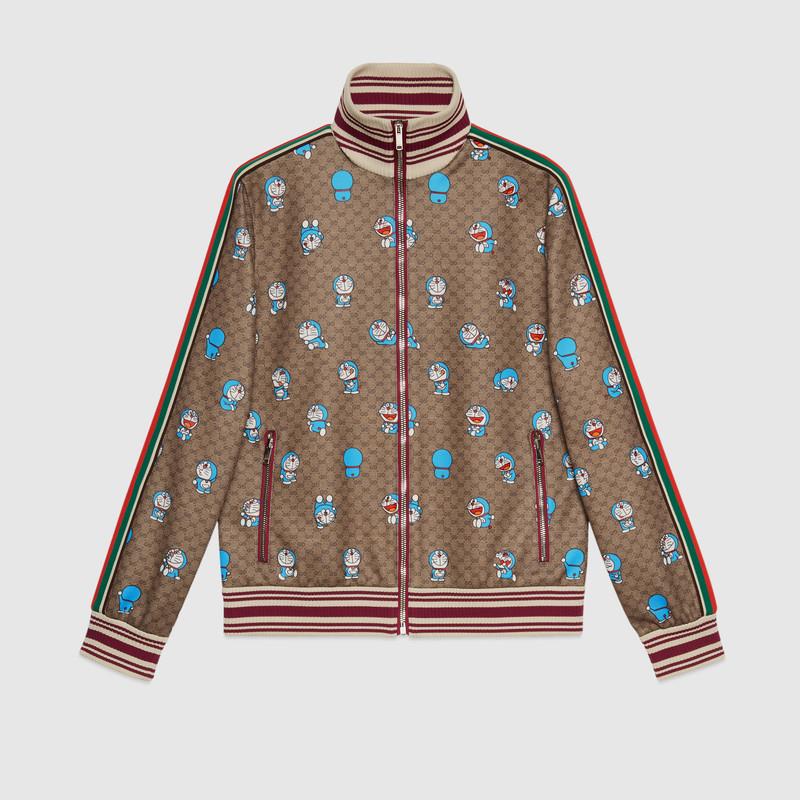 We can also mention Moschino, which like its luxury colleagues, was inspired by the manga "Rose of Versailles" for its Fall / Winter 2020 collection. Prada, meanwhile, has diversified by dressing this time a female manga character, from the Japanese animation film Appleseed, in 2007.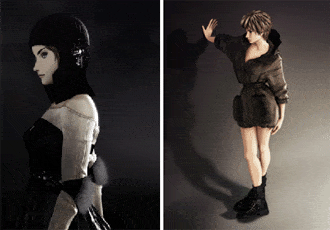 Louis Vuitton : a familiar sight
Louis Vuitton has been interested in anime since 2015, putting Lightning, the central female character of the game Final Fantasy, as the face of its advertising campaign. And this decision came directly from Nicolas Ghesquière, the brand's artistic director, and also a big manga fan !
It doesn't stop there for the French luxury house, because at the end of 2015, Louis Vuitton's spring 2016 collection was presented and the references to the manga turned out to be numerous: pink hair of the models, long eyelashes, accessories like the silver tiara from Sailor Moon, or a red dress that is not without reminding the skin-tight jumpsuit worn by the mecha pilots from Neon Genesis Evangelion. "I think it was really interesting to open a new door to travel with Louis Vuitton," added Ghesquière, following the show.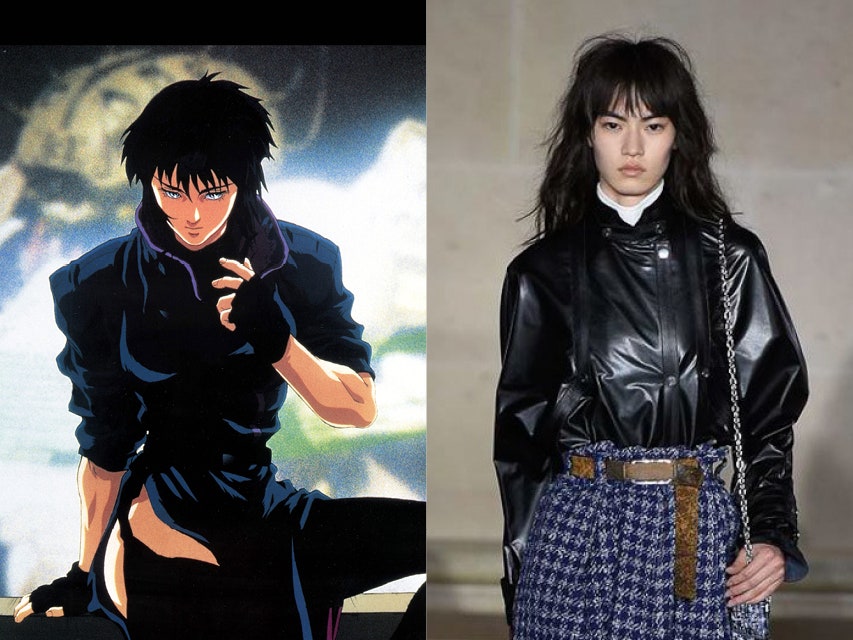 Subsequently, it was in the fall of 2017 that a new sign of Ghesiquière's love for manga was felt: the designer, during a collection presentation, emitted a legendary anime theme for manga-maniacs in the background: the score of Ghost in the Shell by Kenji Kawai. This background sound allows to emphasize the femininity and the futurism of the collection.
With the popularization of the genre that does not seem to weaken, it is likely that luxury brands – starting with Louis Vuitton – continue to open up to the world of manga with ideas more original than the others. What will be the next firm to try the anime experience ?
Read also > GAMING : PLAYGROUND FOR GUCCI
Featured Photo : © Gucci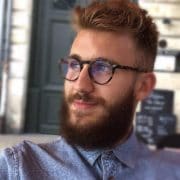 Anthony Conan
[FR] Diplômé journaliste plurimédias en 2019, Anthony Conan a multiplié les expériences, notamment en tant qu'assistant éditorial à TF1 ou journaliste radio à RCF Bordeaux. Il se spécialise dans le montage vidéo en plus de la rédaction, et développe un intérêt particulier pour l'économie.************** [EN] Graduated as a multimedia journalist in 2019, Anthony Conan has multiplied his experiences, notably as an editorial assistant at TF1 and as a radio journalist at RCF Bordeaux. He specializes in video editing in addition to writing, and has developed a particular interest in economics.